Utah's 'ag-gag' law unconstitutional & violates free speech – Federal judge rules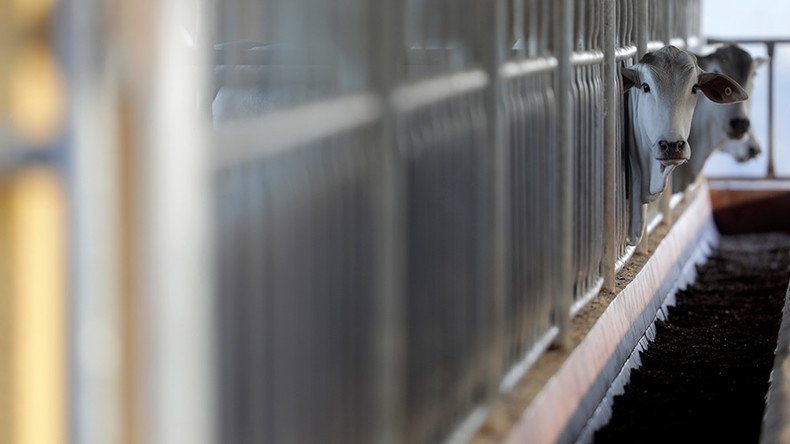 A federal judge in Utah has sided with animal rights activists who argued that a law prohibiting undercover investigations of agricultural operations was unconstitutional. Activists contend that similar laws in other states "will fall like dominos."
In a Friday ruling, US District Judge Robert Shelby struck down Utah's "agricultural operation interference" law, otherwise known as the ag-gag law, declaring it a violation of free speech rights.
"Utah undoubtedly has an interest in addressing perceived threats to the state agricultural industry, and as history shows, it has a variety of constitutionally permissible tools at its disposal to do so," Shelby said in the ruling. "Suppressing broad swaths of protected speech without justification, however, is not one of them."
In 2012, Utah approved a law that made it a class B misdemeanor to photograph or record an agricultural operation without consent from the owner. It also prohibited obtaining access under false pretenses, such as seeking employment with the intent to record or leaving a recording device at an agricultural operation without consent from the owner.
In the ruling, Shelby stated that several states have enacted ag-gag laws since the 1990s in response to animal rights advocates "conducting undercover investigations to expose animal abuse at various facilities."
Shelby cited several investigations, including one where activists filmed workers "forcing sick cows into the 'kill box' by repeatedly shocking them with electric prods, jabbing them in the eye, prodding them with a forklift, and spraying water up their noses," Shelby wrote in the ruling.
That investigation later led to the largest recall of meat in US history.
While attorneys for the state argued that the First Amendment does not guarantee free speech rights to people on private property, Shelby noted that lawmakers who crafted the bill said the law was drafted to target "vegetarian people that [are] trying to kill the animal industry."
A spokesman for Utah Attorney General Sean Reyes' office told KSTU that they are "reviewing the opinion and considering our options."
In 2015, the US District Court of Idaho also ruled that Idaho's ag-gag law violated the First and Fourteenth Amendments. Both rulings were the result of lawsuits led by the Animal Legal Defense Fund (ALDF).
"These unconstitutional laws will fall like dominos," Stephen Wells, executive director of the ALDF, said in a press release. "Ag-Gag laws are flagrant attempts to hide animal cruelty from the American people, and they unfairly target activists trying to serve the public's interest."
The original lawsuit was filed by ALDF and People for the Ethical Treatment of Animals (PETA) after activist Amy Meyer became the first person to be arrested and charged under the law.
In 2013, Meyer, the director of the Utah Animal Rights Coalition (UARC), was charged with violating the ag-gag law for filming a front-end loader moving a sick cow at the Dale T. Smith Meatpacking Company in Draper, Utah. She was on public property at the time, but the state still brought charges against her. However, the case was later dropped after public outcry.
"I was shocked when I was the one charged with a crime instead of that animal abuser," Meyer said in a statement. "It should never be a crime to tell the story of an animal who is being abused and killed, even if it's for food. Today's court ruling is a vindication for anyone who stands up for what's right and tells the truth."
You can share this story on social media: