'A warning to other states': PETA wins $250,000 over Idaho 'Ag-gag' case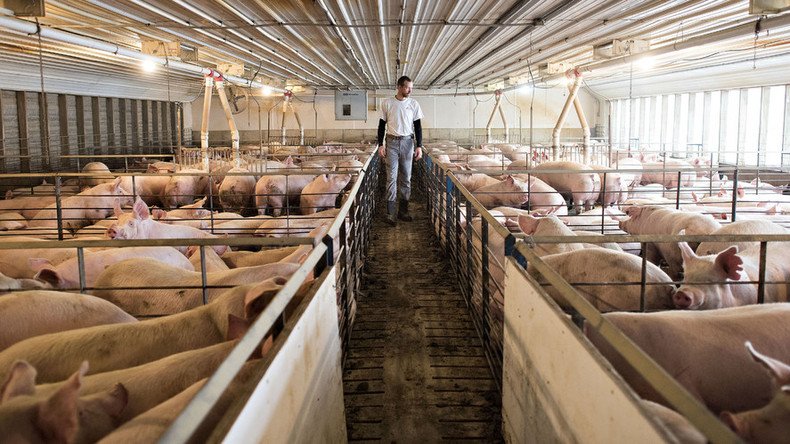 Idaho will pay nearly $250,000 to the People for the Ethical Treatment of Animals (PETA) to cover the animal rights group's legal fees, following a lawsuit over a rule that criminalized whistleblowing investigations of the meat industry.
District Court Judge B. Lynn Winmill granted PETA's request on Thursday, months after PETA's successful lawsuit struck down Idaho's controversial "ag-gag" law, which the court agreed violated the First and Fourteenth Amendments of the US Constitution.
US law gives successful plaintiffs the right to seek the costs that they incurred in bringing a lawsuit involving violations of constitutional rights, and Judge Winmill awarded PETA and the other groups nearly every dollar requested.
"The American public has a right to know when the meat industry is breaking the law, and Idaho's 'ag-gag' law was a blatant violation of free speech," PETA general counsel Jeffrey Kerr said in a statement. "This ruling is a warning to other states that PETA will challenge 'ag-gag' laws, we will win, and it will be costly for the state."
Joining PETA in the suit as plaintiffs were the Animal Legal Defense Fund, the American Civil Liberties Union of Idaho, the Center for Food Safety, the political journal CounterPunch and Farm Forward, among others.
Governor Clement Leroy "Butch" Otter signed the "ag-gag" bill into law after a video surfaced in 2012 showing workers abusing dairy cows at Bettencourt Dairies, according to Boise TV station KIVI. The law made it punishable by jail time to film undercover at Idaho farms, but was struck down in August 2015.
PETA said its eyewitness investigations have "exposed rampant illegal cruelty to animals, including that workers kick pigs in the head, stomp on chickens and turkeys as well as throw them around like footballs, and smash piglets' heads against concrete floors."
They added the exposés "have prompted numerous cruelty charges against abusive workers."
But there has been pushback from lawmakers over the exposés. A growing number of states have passed laws seeking to intimidate or censor those who attempt to capture abuses or safety concerns on farms both small and large. Wyoming Governor Matt Mead signed one such law in March 2015, joining Utah and Iowa. North Carolina lawmakers followed suit in May that year.
Activists who seek to expose factory farm abuses are already subject to the federal Animal Enterprise Terrorism Act, which allows harsh punishment for any damage resulting in a loss of property or profits for any entity that has a "connection to, relationship with, or transactions with an animal enterprise."
You can share this story on social media: