Pentagon to delay Afghanistan troop death announcements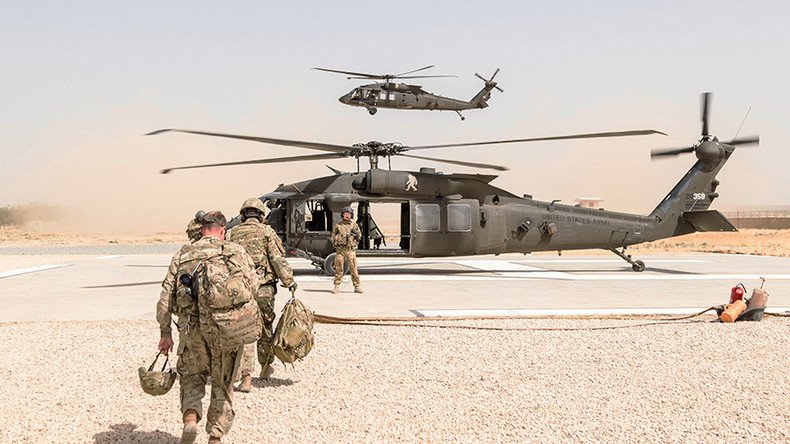 Deaths of US troops in Afghanistan will no longer be reported right away, but after a delay intended to inform their next of kin first. The new policy was enacted by the US commander in the country, according to several media outlets.
The change was not officially announced, but rather inferred from this week's statement about the death of Private First Class Hansen B. Kirkpatrick, 19, of Wasilla, Alaska. Kirkpatrick died from injuries he suffered in a July 3 attack in Afghanistan's Helmand province, but the Pentagon did not make that public until July 5.
Previously, US forces in Afghanistan would announce the soldiers' deaths in a brief statement, and release more details – such as the service member's name, age, rank, and unit – 24 hours after notifying their next of kin.
That policy has now changed at the request of Army General John Nicholson, commander of the US Forces in Afghanistan, according to BuzzFeed News reporter Nancy Youssef.
The change is intended to prevent the accidental release of names before the service member's family can be notified, Youssef reported, quoting anonymous Pentagon officials. The small number of US forces in Afghanistan – less than 9,000 at this time – makes even a preliminary death announcement potentially revelatory, Youssef reported the officials as saying.
Nicholson made the change over fears that families could be left guessing in the time between the announcement of casualties and their identification, US Navy Captain Bill Salvin, spokesman for the US Forces in Afghanistan, told Reuters.
"It's a balance we're trying to strike between trying to provide all the support we can to families, while also informing the public," Salvin said.
The military will continue to release casualty reports, but on a more delayed schedule, according to Salvin. The Pentagon will still respond to public reports of casualties as well.
"There might be a bit longer period before we report it," he told Reuters.
US President Donald Trump has given greater authority to commanders in the field, as part of his strategy to pursue the war against terrorism more aggressively. Nicholson already used that authority in April when he ordered a Massive Ordnance Air Blast (MOAB) strike against Islamic State (IS, formerly ISIS/ISIL) in the Nangarhar Province.
This would be the first time US commanders have decided not to release initial casualty reports since the 2001 invasion of Afghanistan.
A total of 1,869 US military personnel have been killed in action and 20,275 have been wounded in the nearly sixteen years of war, which shows no sign of ending any time soon.
You can share this story on social media: