Pentagon identifies US soldier killed in Afghanistan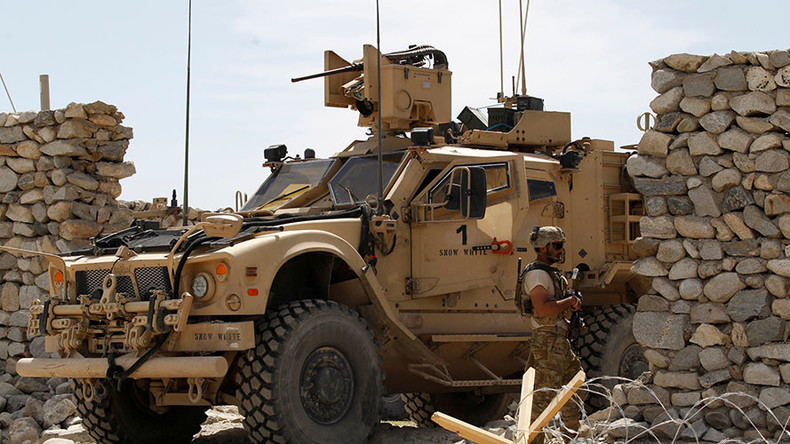 A 19-year-old US soldier has died from the wounds he received in Monday's "indirect fire" attack in Afghanistan's Helmand province, the Pentagon said. Two other soldiers were wounded.
The soldier was identified as Private First Class Hansen Kirkpatrick of Wasilla, Alaska. He is the seventh US soldier killed in Afghanistan this year.
The injuries of two other soldiers wounded in the same attack are not considered life-threatening, the Army Times reported, citing US forces in Afghanistan.
"At a time when we remember the patriots who founded our nation in freedom, we are saddened by the loss of one of our comrades who was here protecting our freedom at home," General John Nicholson, commander of US forces in Afghanistan, said in a statement. "We will keep his family in our thoughts and prayers as we reflect on the sacrifice he and others have made to secure our freedoms and help make Afghanistan a better place."
Kirkpatrick was assigned to the 1st Battalion, 36th Infantry Regiment, 1st Brigade Combat Team, 1st Armored Division, based at Fort Bliss, Texas. Some 1,500 soldiers from the brigade were deployed to Afghanistan earlier this year as part of the "train, advise and assist" mission to prop up Afghan government forces fighting Taliban insurgents.
The government now controls less than 60 percent of the country, Reuters reported. Helmand, a province in the south of Afghanistan, is the source of much of the world's opium supply.
At a summit last month in Brussels, NATO pledged to send more troops to Afghanistan to advise and assist rather than fight the war themselves.
"What we do now is not to conduct combat operations but to help the Afghans fight and to help the Afghans take full responsibility for the security in their own country," said the alliance's secretary-general, Jens Stoltenberg.
Though there are persistent rumors in Washington that the US intends to send 4,000 more troops to Afghanistan, Secretary of Defense James Mattis has said only that the military leadership is finalizing recommendations for President Donald Trump.
Answering questions from reporters about the war that has gone on for almost 16 years, Mattis said the US cannot quit Afghanistan without paying a price.
"The most important question is, what is the price of not fighting this war?" Mattis said. "In that case, we're not willing to pay that price."
A total of 1,869 US military personnel have been killed in action and 20,275 have been wounded since the US invaded Afghanistan in October 2001.