Pentagon's report paints grim picture of Afghanistan in 2017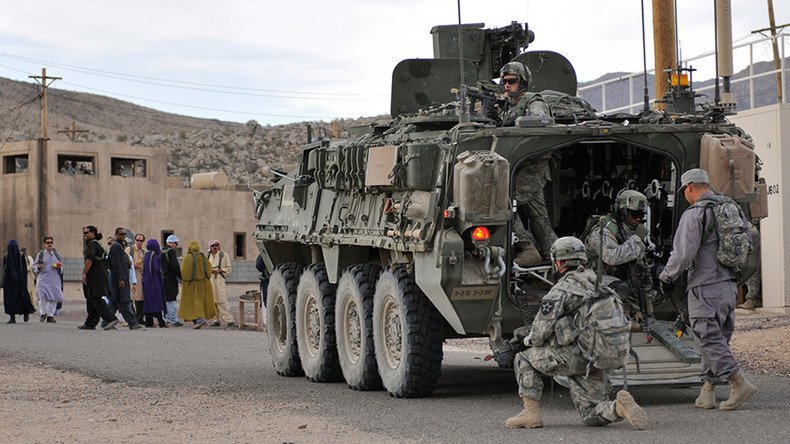 Afghanistan is "at a critical point" in its battle against multiple insurgencies and terrorist groups, the Pentagon has said in a new report to Congress. It also reveals that US and Afghan authorities are seeking peace through talks with the Taliban.
Sixteen years after the US-led invasion aimed at overthrowing the Taliban and denying a safe haven to Al-Qaeda – the group blamed for 9/11 terrorist attacks – Afghanistan is facing a "continuing threat" from as many as 20 insurgent and terrorist networks, in what the US Department of Defense called "the highest concentration of extremist and terrorist groups in the world."
That is one of the assessments in the just-released "Enhancing Security and Stability in Afghanistan," covering US efforts between December 1, 2016 and May 31 of this year. The semi-annual report is required under the annual National Defense Authorization Act (NDAA).
16 years into war in Afghanistan, Pentagon says in new report that 2017 is "a year of setting conditions to build momentum" @ForeignPolicy

— paul mcleary (@paulmcleary) June 20, 2017
"The US and Afghan Governments agree that the best way to ensure lasting peace and security in Afghanistan is through reconciliation and a political settlement with the Taliban," the report says.
While no measure of territorial control is given, the Pentagon says that as of February 2017, the Taliban exercised influence or control over 11 percent of the Afghan population, the government could claim 65 percent, and the rest was "contested."
Though the Taliban achieved only "limited successes," it presented them as strategic victories "through the proficient use of social media and propaganda campaigns."
The Afghan National Army (ANA) is approximately 20,000 strong under the authorized level of 195,000 troops. It is "generally capable of protecting major population centers, preventing the Taliban from maintaining prolonged control of specific areas, and responding to Taliban attacks," the report states.
President Mohammed Ashraf Ghani's government is seeking to double the size of Special Forces in order to take the battle to the enemy, while relying on local militias – called the National Uprising Forces – to provide security in rural areas.
However, "these groups have limited accountability and a disregard for human rights, and they can exacerbate tribal and ethnic tensions if not properly monitored," the Pentagon concluded.
"The plan to modify the force structure and develop into a more agile and lethal force is underway, but 2017 is a year of setting conditions to build momentum," the report said.
Afghanistan's armed forces are funded primarily through the Pentagon's Afghanistan Security Forces Fund (ASFF), which in the fiscal year 2017 amounted to $4.26 billion. President Donald Trump's 2018 budget request would see the funding increased to $4.937 billion. NATO allies have pledged approximately $900 million a year through 2020, while the Afghan government remains committed to spending roughly $500 million a year.
Over $800 million is earmarked for "transitioning the Afghan aviation fleet" away from Soviet-designed Mi-17 utility helicopters to US-made Blackhawks.
The Afghan Air Force began to operate its own bombers for the first time in 2016, using the Brazilian A-29 Super Tucano turboprop attack planes. There are currently 12 A-29s in service, with another seven scheduled for delivery in 2018.
The report was more optimistic about the efforts against Al-Qaeda and Islamic State's Khorasan group (ISIS-K), which have lost territory and are focusing on survival. At its peak, ISIS-K had a presence in six provinces, but is currently confined to "four districts in Nangarhar Province."
Casualty figures paint a grim picture, however. In the six months covered by this report, there were 4,806 "effective enemy-initiated attacks" or 801 per month, compared to 4,727 – or 788 a month – in the previous reporting period. Five American soldiers were killed and 36 wounded. There were also 38 attacks on Afghan forces by their own members, known as "green-on-green."
NATO's Civilian Casualty Mitigation Team documented more than 3,600 civilian casualties, of which approximately a third were deaths and two thirds were injuries. This was a 32.7 percent increase compared to the same period a year ago. The report also included figures by the UN mission in Afghanistan (UNAMA), according to which some 715 civilians were killed and 1,466 were wounded between January and May 2017.
As of May 31, a total of 1,865 US military personnel have been killed in action and 20,272 have been wounded since the US invaded Afghanistan in October 2001.
The US currently has 8,400 troops in the country, conducting both the "training, advising and assisting" of Afghan security forces and counterterrorism operations against ISIS-K, Al-Qaeda, and other terrorist groups. The report did not mention a need for additional troops.
The estimated cost of the report was $225,000.
You can share this story on social media: