Pentagon vows to protect US & allies after Pyongyang's 'escalatory ICBM test'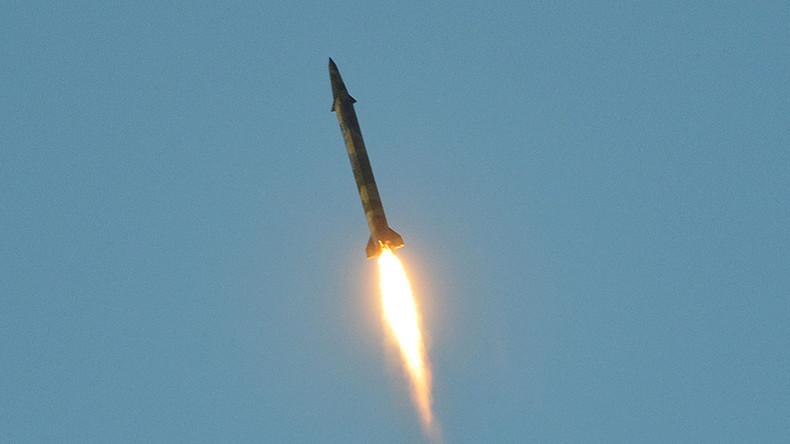 The Pentagon has vowed to defend the US and its allies against any possible North Korean threat after Washington confirmed Pyongyang's claim that it has developed the technology to potentially deliver a nuclear warhead to the US mainland.
The Pentagon has concluded that North Korea test-launched an intercontinental ballistic missile (ICBM) that can potentially strike the United States. Initially, the US military had assessed the missile fired Tuesday morning to be of an intermediate-range category.
"We remain prepared to defend ourselves and our allies and to use the full range of capabilities at our disposal against the growing threat from North Korea," Pentagon spokeswoman Dana White said in a statement. White also condemned Pyongyang's "escalatory launch of an intercontinental ballistic missile."
The US response comes after North Korea boasted about conducting a successful launch of its Hwasong-14 missile, which allegedly flew for a distance of 933 km (580 miles), reaching an altitude of 2,802 km (1,741 miles) at the peak of the 39-minute flight.
For years now, North Korea has been developing nuclear technology and missiles that will be able to strike the US mainland, located around 9,000 km (5,500 miles) away. A missile is considered intercontinental if it can travel at least 5,500 km (3,400 miles). ICBM technology requires complex methods and means of engineering to successfully deliver the payload to a designated target.
The latest test managed to verify technical capabilities needed for a fully functioning ICBM, state news agency, KCNA reported. Tuesday's launch tested the stage separation, the atmospheric re-entry of the warhead and the late-stage control of the warhead, according to KCNA.
"The test-launch confirmed the features of the rocket's blast-off from its launching pad and technological features of its guidance and stability system in its active-flight stages and structural system," KCNA said.
The missile is capable of carrying a "large, heavy nuclear warhead" KCNA added, as cited by AFP. The report further stated that Pyongyang's battle with Washington had entered the "final stage."
Immediate US military assessment of the projectile fired by North Korea said the rocket was a land-based intermediate-range ballistic missile. The Russian military also said the range of the projectile classified it as an intermediate-range and not an ICBM.
However, after reviewing their data, the Pentagon now apparently believes that the North Korean rocket had a two-stage design which would provide enough velocity for the projectile to fly the range required to be classed as ICBM.
Seoul meanwhile stopped short of concluding that the North succeeded in developing an ICBM, with its defense ministry noting that "the missile was launched from a fixed launch pad" and that "we have yet to confirm whether (the missile) has re-entered (the atmosphere),"according to Yonhap.
The US Secretary of State, Rex Tillerson, lent additional credibility to North Korea's claim that it had launched an ICBM.
"The United States strongly condemns North Korea's launch of an intercontinental ballistic missile. Testing an ICBM represents a new escalation of the threat to the United States, our allies and partners, the region, and the world," Tillerson said in a statement.
Tillerson said international action is required to stop what he called the North Korean "global threat," as he warned countries against supporting Pyongyang. "We will never accept a nuclear-armed North Korea," Tillerson underlined.
Washington has called a UN Security Council meeting Wednesday to discuss the latest developments on the Korean peninsula. The US military has also conducted joint drills with their South Korean counterparts, firing surface-to-surface tactical missiles into neutral waters in an apparent show of force to Kim Jong-un.
While the US and its allies remain nervous about North Korea's missile delivery capabilities, Pyongyang is yet to design a functioning nuclear warhead that can be deployed on the ICBM. Last September, North Korea claimed that it had conducted its fifth nuclear test, announcing it is now capable of mounting nuclear warheads on ballistic rockets.
The September test appears to be the most powerful in the history of North Korea's nuclear program, measuring 20-30 kilotons according to estimates from South Korea's Defense Ministry and data from various universities across the globe. The yield from the previous January 2016 test was about 6-10 kilotons. Earlier tests were conducted in 2013 (6-16 kilotons), 2009 (2-5 kilotons), and 2006 (1-2 kilotons).
The US and its allies have recently been anxious that Pyongyang is set to carry out its sixth nuclear test. South Korean defense minister Han Min-koo said Wednesday there was a "high chance" that a sixth test was imminent as "North Korea's eventual goal is to weaponize its nuclear power."
Meanwhile, Russian President Vladimir Putin and his Chinese counterpart, Xi Jinping, meeting in Moscow, called for a freeze of Kim Jong-un's nuclear and ballistic programs with a simultaneous reduction of US military activities on the peninsula.
As tensions in the region continue to escalate to alarming levels, China and Russia – which both share a land border with North Korea – condemned the test and called for a peaceful resolution to the conflict.
READ MORE: 'Nothing better to do with life?' Trump mocks Kim Jong-un after Pyongyang's latest missile test
"We've agreed to promote our joint initiative, based on a Russian step-by-step Korean settlement plan and Chinese ideas to simultaneously freeze North Korean nuclear and missile activities, and US and South Korean joint military drills," Putin said at a news conference in Moscow.
North Korea has been under UN sanctions since 2006, when the Security Council prohibited the provision of large-scale arms, nuclear technology, and related training to Pyongyang. Despite the economic pressure, North Korea continues to pursue its research and developments in the nuclear sphere.
You can share this story on social media: