Life's a beach? NJ Governor Christie defends private party in state park he closed
Published time: 3 Jul, 2017 15:56
Edited time: 4 Jul, 2017 13:00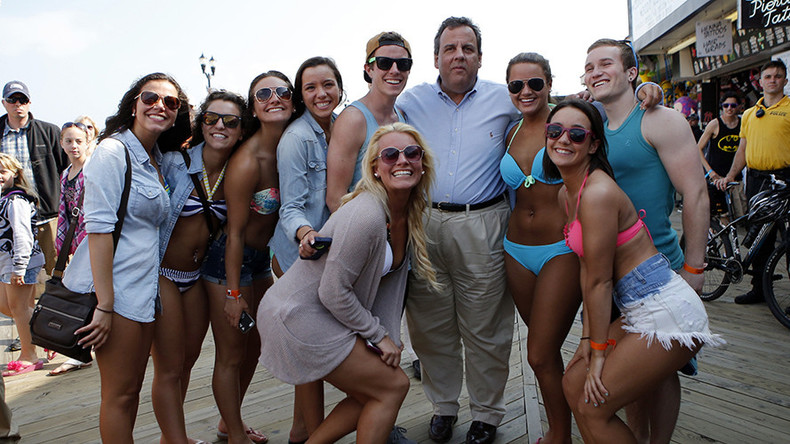 New Jersey Governor Chris Christie justified hosting a private beach party in a state park he ordered closed after being caught by an aerial photographer. State-run parks were closed to the public due to a budget standoff over healthcare.
The Republican governor and former presidential candidate said he had previously announced his vacation plans and that the media had simply "caught a politician keeping his word."
"What a great bit of journalism by The Star-Ledger. They actually caught a politician being where he said he was going to be with the people he said he was going to be with, his wife and children and their friends. I am sure they will get a Pulitzer for this one," Christie told Fox News.
"They caught me doing what I said I was going to do with the people I said I was going to be with."
Aerial photographs show Christie's family enjoying a vast empty beach at Island Beach State Park on Sunday, with the governor sitting in a beach chair in sandals and a T-shirt, while state authorities blocked other visitors. Other New Jersey families were seen crammed together on the only beaches that did remain open.
The photographs, published Sunday, enraged the Twittersphere with references to the alleged utterances of the last queen of France, Marie Antoinette: "Let them eat cake."
"That's a lot of cake," one retorted in reference the overweight governor.
Another weighed in: "They are using the summer beach house provided by the state... Shouldn't #njshutdown shut down Gov's. beach house as well?"
Another commented: "He is notorious for over-use of taxpayer funded services like using helicopters for personal trips. Worst Jersey governor ever #Bridgegate."
Preet Bharara, a former US attorney who was fired by President Trump, trolled Christie over his beach controversy using their shared love of Bruce Springsteen.
The photographs were taken by Star-Ledger photographer Andrew Mills. The news outlet had arranged for a plane in advance to cover the July 4 holiday when many New Jersey families go to the shore to celebrate. Mills had noticed Christie's helicopter at the depot and decided to take an early flight to capture empty state park beaches when he saw the Christie family.
"In my 23 years as a photo journalist, I've been on enough stakeouts to know when I've been made, and Gov. Chris Christie looked right at me as I pointed the long-range lens at him from a small plane about a thousand feet above Island Beach State Park in Berkeley Township on Sunday. ... In one photo, Christie looks me dead in the eye. He has to know what's happening," Mills said.
The state has owned a residence on Island Beach State Park for its governors to visit since the 1950s. When asked about it, Christie said it's one of the perks of the job.
"It's just the way it goes. Run for governor and then you can have the residence," he told reporters.
The government shutdown began on July 1 because of the requirement that the state pass a balanced budget.
Christie is reportedly pushing for a $34.7 billion state budget that includes certain provisions for his initiatives such as drug treatment. The deadline was missed as the Democrat-controlled legislature fought the governor over legislation to overhaul the state's biggest health insurer. Christie wants Horizon Blue Cross Blue Shield to pay more money to the state, while Assembly Speaker Vincent Prieto is blocking the proposal.
Christie issued an executive order shutting down the government early Saturday morning.
"This order is necessary to maintain the protection, safety and well-being of the people of New Jersey while I attempt to convince the legislature to send me a fiscally responsible budget that I can sign and re-open New Jersey's government," Christie said in a statement announcing the shutdown.
Christie said that if the legislature would pass a budget, he would sign it and the parks would be open.
Over the weekend, the public began feeling the effects of the shutdown.
The AP reported among those affected were Cub Scouts forced to leave a state park campsite and people trying to obtain or renew documents from the state motor vehicle commission.
Remaining open under the shutdown are New Jersey Transit, state prisons, the state police, state hospitals and treatment centers as well as casinos, race tracks and the lottery.