'Not my president': Protesters rally across US for Trump's impeachment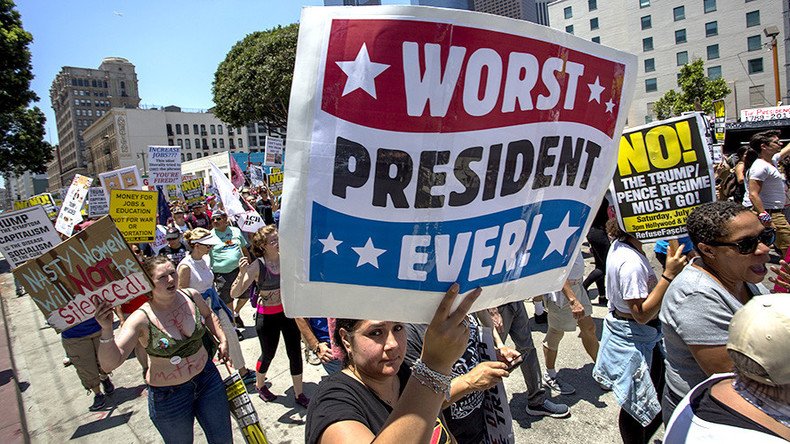 Thousands of demonstrators marched throughout the US on Sunday to call for the impeachment of President Donald Trump, accusing him of violating the constitution. Meanwhile, Trump supporters staged counter rallies to support his 2020 re-election bid.
The protests were organized by the impeachmentmarch.org group, which says Trump "has been in blatant violation of the Constitution from the day he was sworn into the office of President."
"We believe president Trump has committed constitutional breaches, consistently lied, cheated, and enforces laws that primarily benefit him and his billionaire friends at the expense of the country. Join on July 2nd!" the group said.
Massive crowds gathered in downtown Los Angeles, calling on lawmakers to impeach the president, local media reported.
Protesters shouted out "Not my President" while carrying banners reading "We refuse a fascist USA."
"I need to have my voice heard, it's really important to me to get rid of him. He is wrecking, it's like he is a bad person for the world, and I feel horrified about that," an LA protester told the Ruptly agency.
In the meantime, a counter rally supporting Trump and his 2020 presidential bid was held in LA, with the demonstrators carrying banners, saying "Make America Great Again" and "We won."
READ MORE: Twitter baffled after Trump CNN smackdown tweet
A Trump supporter at the rally told local media that the president should improve his social media skills.
"I think the Twitter thing could probably slow down a little bit," he said, noting "but that's Donald Trump. He's been the same way for exactly 40 years. He's never changed."
About 1,500 people joined the anti-Trump demonstration in San Diego, the San Diego Union-Tribune reported.
Similar marches and counter rallies were held in Chicago, Seattle, Atlanta, and San Francisco, as well as other cities across the nation.
You can share this story on social media: