Holocaust memorial defaced in New Jersey with anti-Jewish slur, $10k info reward offered
Published time: 3 Jul, 2017 04:36
Edited time: 3 Jul, 2017 07:57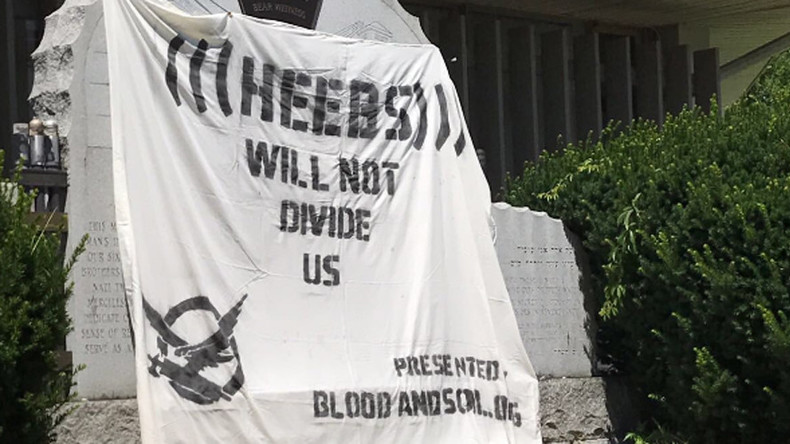 Suspected far-right extremists veiled a Holocaust memorial in Lakewood, New Jersey, with a banner displaying an ethnic slur against Jews. It comes amid ongoing police investigation into massive welfare fraud, implicating a local rabbi.
An image of a white banner reading "Heebs will not divide us" was posted by a local branch of the Anti-Defamation League on Sunday accompanied by a caption: "Brazen anti-Semitic hate on full display."
"Heeb," a pejorative abbreviation of "Hebrew," is considered to be a highly offensive term among the Jewish community.
Authorities have launched an investigation into a suspected hate crime, with New Jersey's Attorney General Christopher Porrino encouraging potential witnesses to help trace suspects by promising a $10,000 information reward.
It might turn out not to be that difficult to find those responsible for the act, as the vandals appear to have written the name of the group, Bloodandsoil.org, in the right-hand corner of the banner. The website under this name belongs to an openly fascist US organization that uses the same Nazi-style symbol as in the poster.
READ MORE: Dozens of Anti-Semitic fliers appear at Chicago university campus
The latest incident comes amid a rash of anti-Semitic actions carried by the Blood and Soil group in the community in recent days. It was reported that flyers reading, "Thieving Jews near you. $2 million stolen" were put under the windshields of cars several days ago in an apparent reference to a wide-ranging investigation into benefits fraud involving seven Jewish families.
The families became a subject of a state and federal investigation last week after they were arrested on suspicion of duping the US government out of tens of thousands of dollars by falsely claiming benefits. The suspects allegedly applied for a variety of low income perks, such as social security, nutrition assistance, energy and housing benefits and Medicaid. It is estimated that the scammers defrauded the government of $2 million in public assistance.
The families are suspected of "declaring amounts that were low enough to receive the program's benefits, when in fact their income was too high to qualify," Ocean County (N.J.) Prosecutor Joe Coronato and New Jersey Comptroller Phillip James Degnan said in a joint statement Tuesday.
The investigation into the welfare fraud has been under way for three years already and was led by the FBI and various agencies, including the Social Security Administration, Medicaid division and the New Jersey Treasury Department
Among the fourteen alleged scammers is Rabbi Zalmen Sorotzkin, who is in charge of synagogue Congregation Lutzk. All suspects were released without bail upon attending a court hearing last week.
Police believe the surge in ethnic crime targeting the Jewish population is an imminent consequence of the investigation into the benefit fraud.
"We do believe that this recent rash of anti-Semitic incidents is directly related to the recent arrests in our town. We have not had any other incidents before," Lakewood Police Chief Gregory Meyer was cited by Asbury Park Press as saying.
He added that police are "working around the clock" and boosted patrol force in the face of such a dramatic increase.
"We will not tolerate this kind of behavior and we are working with (the) state and the Ocean County Prosecutor's Office in an attempt to make arrests," Meyer stressed.
Lakewood, with a population of about 100,000 people, boasts a strong Orthodox Jewish community and has some 32 percent of its residents living in poverty.