Federal officer indicted for kicking handcuffed man lying face down
Published time: 1 Jul, 2017 03:47
Edited time: 1 Jul, 2017 11:12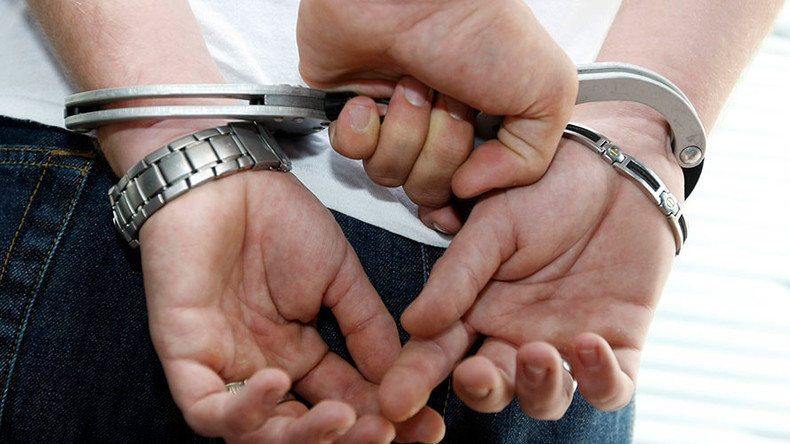 A Federal Protective Services officer has been indicted for allegedly kicking a handcuffed man in the head outside a government building.
On Thursday, in a Los Angeles federal court, James Michael Rouswell, 46, was indicted and charged with one count of deprivation of rights under color of law over an incident that occurred on October 20, 2016.
Rouswell is an inspector with the US Department of Homeland Security's Federal Protective Services and is accused of kicking a handcuffed suspect in the head while the man was lying face down on the ground.
The episode happened outside of the Social Security Administration building in Pomona, California, according to a Department of Justice press release.
In the indictment, Rouswell is charged with "willfully depriving the victim of the right to be free from the use of unreasonable force by one acting under the color of law." Bodily injury to the victim was also reported.
The Los Angeles Times reported that prosecutors have alleged that two officers were on the scene at the time of the incident. They cuffed and shackled the victim, who has only been identified as C.S., according to court papers.
The Department of Homeland Security's Office of the Inspector General and the FBI are handling the investigation into Rouswell's actions. Assistant US Attorney Bryant Yang, of the General Crimes section, will prosecute the case.
A video of the incident was captured by a man identified as Alex Garcia, who spoke to KCBS after witnessing the incident and taking a video.
"One of the the officers started handcuffing him, the other was on top of him and socked him on the back," he said, adding that "they were chasing him or whatever."
"He starts to back off. He starts backing away," Garcia continued, "they pull out their Tasers. He said, 'don't shoot, don't shoot' So they shoot him, they tase him and he falls to the floor."
Garcia also told the news outlet that "[the officer] walked up to his face and just kicked him, like, in the face."
Garcia said that he started to film the altercation, because he saw the officers using excessive force during the arrest.
The DOJ press release mentions that an agreement with Rouswell has been made for him to self-surrender by July 5 to face the charges held against him in the indictment.
He faces a maximum of 10 years in federal prison, if convicted.