New Jersey cop kicks burning car crash victim in head (VIDEO)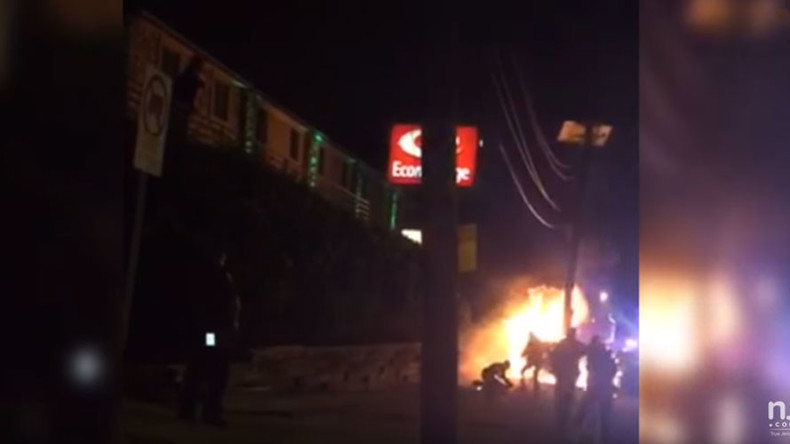 New Jersey police officers are facing termination after being filmed kicking an innocent car crash victim who was on fire after fleeing the burning wreckage. Police say they mistook him for a suspect they were pursuing.
The footage, obtained by Univision and filmed by a bystander on Tonnelle Avenue Sunday night, shows officers allegedly kicking the man in the stomach and head before roughly dragging him away from the nearby burning vehicle.
It seems the officers mistook the 28-year-old crash victim – who got caught up in a disastrous police chase which ended in a two-car collision – for Leo Pinkston, 48, who has been charged with aggravated assault and eluding arrest.
"Our investigators have reviewed the video and we believe with certainty that this man is the bystander from West New York who suffered burns, not Leo Pinkston, the individual pursued by police," a spokesman for the prosecutor's office told The Jersey Journal.
READ MORE: Cop who shot dead unarmed Terence Crutcher beats manslaughter charge
The officers say they were stomping on the man to help put out the flames, according to a statement from the Jersey City Police Officers Benevolent Association, a union representing the officers.
"Taking swift action isn't always elegant, but this video clearly shows that the officers acted quickly to extinguish the flames, and pull this man out of harm's way," said JCPOBA President Carmine Disbrow.
2 b clear. This is unacceptable. We're IDing officers. We'll pursue termination + criminal charges as appropriate https://t.co/JIWPWQNrdp

— Steven Fulop (@StevenFulop) June 7, 2017
Meanwhile, New Jersey Mayor Steven Fulop took to Twitter to say he wants the officers responsible to be fired and charged.
"We have serious concerns about the conduct of this pursuit, however, we are reserving judgment until the conclusion of the prosecutor's investigation," said Jersey City spokeswoman Jennifer Morrill.
READ MORE: Civil rights group calls for end to cop chokeholds after Nevada man dies in custody
City officials are working with prosecutors to identify the officers in the video and will seek the termination of the officers responsible "in addition to any possible criminal penalties in appropriate cases," added Morrill.
The badly beaten victim is still in hospital being treated for severe burns and fractured ribs, and will undergo surgery on Thursday, according to his family who spoke to News 4 New York.
You can share this story on social media: