Cop who shot dead unarmed Terence Crutcher beats manslaughter charge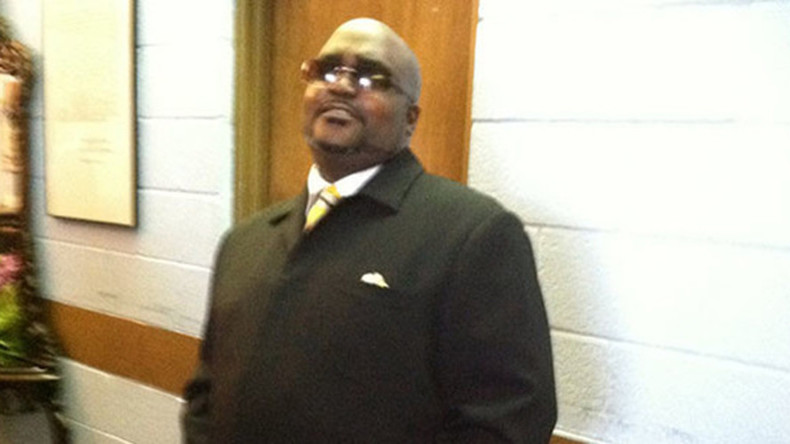 A white Tulsa police officer who fatally shot an unarmed black man last year has been found not guilty of first-degree manslaughter, outraging protesters gathered outside the courthouse to demonstrate against police brutality.
Betty Shelby denied race was a factor when she shot Terence Crutcher and insisted her actions were driven entirely by the behavior of the man she shot.
Crutcher was killed on his way home from his night class at Tulsa Community College in September, after he pulled his SUV over because he was experiencing car trouble.
Shelby claimed she shot the 40-year-old father because she thought he was reaching for a gun, although police footage shows Crutcher had his hands in the air.
The confrontation was caught on video, sparking a national debate in the US over alleged racial bias in law enforcement.
The trial lasted one week, with the jury deliberating for nine hours before finding Shelby not guilty.
Following Wednesday's verdict, protesters gathered outside the courthouse, chanting, "No justice, no peace, no racist police."
Demonstrators later marched to the Mayo Hotel where Shelby was believed to be staying. Tulsa World reports the protesters banged on the hotel windows before they were covered from the inside.
Some of the protesters moved to Denver Street at about 11:30pm where they attempted to stop traffic. Police told protesters, "If you do not leave now, chemical agents will be used." The demonstrations broke up at about 12:30 am.
Shelby's lawyers argued that before the police cameras began recording, she repeatedly told Crutcher to stop walking away and get on the ground. The prosecutors said Crutcher didn't make any aggressive moves towards any of the four officers eventually on the scene, and that he was not a threat.
The backup officers' dashcam and helicopter weren't recording the beginning of the incident, but started when Crutcher's hands were up. Crutcher was tasered by another officer as Shelby fired at him.
A police officer in an overhead helicopter, who was also Shelby's husband, was heard saying Crutcher "looks like a bad dude" in the footage of the incident.
"Let it be known that I believe in my heart that Betty Shelby got away with murder," Crutcher's father, Rev. Joey Crutcher said after the verdict.
CBS news reported at least four of the 12 jurors were crying as they left the courtroom.
Defense attorney Shannon McMurray also claimed Shelby shot Crutcher because he appeared to be reaching into his vehicle, and she thought he was reaching for a gun.
However, Assistant District Attorney Kevin Gray said video clips appear to show Crutcher was shot five seconds before he appeared to reach inside his car.
Shelby spoke to 60 Minutes last month said race was not a factor in her decision to shoot, and claimed Crutcher was to blame for his death.
"I have sorrow that this happened that this man lost his life but he caused the situation to occur," Shelby said. "So in the end, he caused his own."
Shelby told 60 Minutes she drove past Crutcher and because of the motionless way he was standing, she thought, "Hmmm. I wonder if he's on PCP."
When she saw his white SUV up the road, she got out to investigate. Crutcher's hands were in his pockets, and when she told him to take them out, he put them straight into the air.
Crutcher lay on the ground for two minutes before the police checked him out. Police found a vial of PCP in the SUV's door, but no weapons were found.
"We are deeply disappointed that yet another police officer has eluded conviction for killing an unarmed African American," The National Association for the Advancement Colored People (NAACP) Legal Defense Fund said.
"Officer Shelby continually altered her account of the incident, apparently changing the details based on the influence of counsel and discoveries by her fellow officers instead of her own recollection."
The Guardian's The Counted data reports 42 unarmed black people were killed by US police in 2016.
You can share this story on social media: