Ohio officer who kicked handcuffed man in head should be suspended for 24hrs – police chief
Published time: 22 Jun, 2017 15:41
Edited time: 23 Jun, 2017 08:27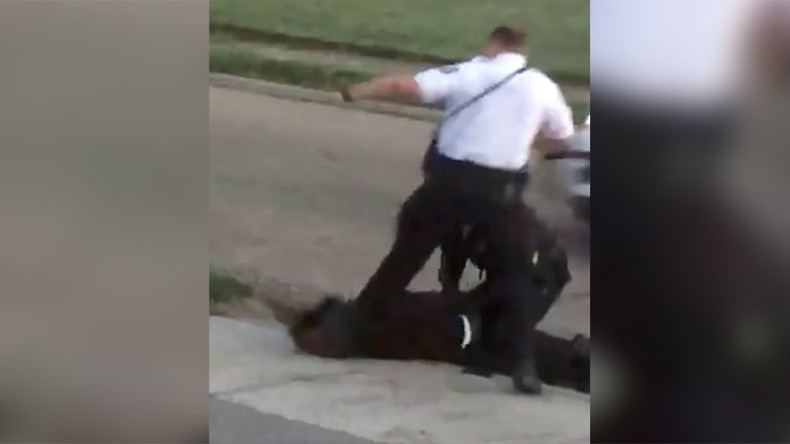 An Ohio police officer who was caught kicking a handcuffed man in the head should be punished with a 24-hour suspension, the department's police chief says, in a move which has been dubbed "laughable" by the victim's attorney.
The recommended punishment for Officer Zachary Rosen, proposed by Columbus Police Chief Kim Jacobs, was made public on Wednesday.
The 24-hour suspension would amount to three shifts for the officer, who was caught on video kicking a handcuffed Demarko Anderson in the head in April.
The footage shows the suspect lying face down on the ground while Rosen's colleague handcuffs him. He appears to be complying with demands, and can be heard calling the officer "sir."
Rosen is then seen running towards Anderson, kicking him straight in the head. The action prompts someone behind the camera to shout "Oh my God!"
Jacobs based her recommendation on a report by a deputy police chief last month, which prompted police to say in a statement that the "strike/stomp was an untrained technique and was found to be unreasonable."
However, the police chief's recommendation of a 24-hour suspension has been deemed "laughable" by Anderson's attorney.
"Kids in school who are suspended or expelled are getting similar or worse punishment," attorney Sean Walton said, as quoted by AP. He added that Rosen should be fired for his actions.
Although Jacobs' recommendation may seem lax, others in the police community don't believe Rosen should be punished at all.
In fact, a sergeant, lieutenant, and commander all cleared Rosen before Jacobs found fault with the officer, according to Jason Pappas, head of the union Fraternal Order of Police, which represents Rosen.
Pappas went on to say that he also believes no discipline is required for Rosen.
Jacobs' proposed punishment is only a recommendation, as the city's Public Safety director will have the final say. He can either follow the recommendation, impose his own punishment, or decide that no discipline is needed.
"While the Chief of Police has made a recommendation for discipline in the use of force case involving Officer Rosen, the Director of Public Safety will make the final decision under the current FOP contract," Columbus Mayor Andrew Ginther said in a Wednesday statement.
"I have every expectation the Public Safety Director will discipline Officer Rosen in a manner that holds him accountable for his actions, and I expect the final decision to be made as quickly as possible."
The incident is not the first time Rosen – who has been assigned non-patrol duty since the April incident – has been under investigation. He was also placed in the spotlight in 2016, following the fatal shooting of an African-American man by himself and a fellow officer. However, a grand jury eventually declined to indict Rosen.