Nevada man freed after 22yrs in prison for murder he didn't commit
Published time: 1 Jul, 2017 00:33
Edited time: 1 Jul, 2017 11:09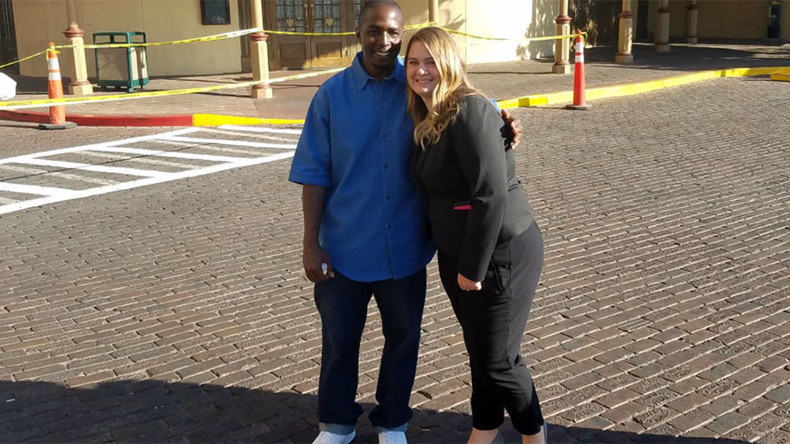 A Las Vegas man who spent more than half his life behind bars for a murder he didn't commit has been exonerated and released after a California inmate confessed to the crime.
On Thursday, the Clark County district attorney's office announced the conclusion to an investigation by the newly launched Conviction Review Unit (CRU). It concluded that DeMarlo Berry, 42, was wrongfully convicted of burglary, robbery and murder.
On Friday morning, Berry was released into a world he did not recognize.
"It was a surreal moment, just taking it all in," Berry said at a news conference on Friday, adding the the feeling of freedom was a "sensory overload," according to the San Francisco Chronicle.
Berry was released with nothing but a debit card for his prison commissary account. He returned home to his wife, Odilia Berry, whom he married in 2010 while he was still in prison.
"It was rough. It was hard," Odilia said, according to the Las Vegas Review-Journal. "But it's over."
In 1994, Berry was convicted of killing Charles Burkes, 32, a Carl's Jr. restaurant manager during an armed robbery. Berry was 19 years old when he was sentenced to life in prison for the crimes.
Through the years, Berry maintained that he was present when the robbery occurred, but another man, Steven Jackson, was responsible for Burkes' death.
In 2013, Jackson, who is serving life without parole in California for a separate murder that occurred in 1996, wrote an affidavit, taking responsibility for the murder.
Last year, the Clark County district attorney's office agreed to review Berry's conviction based on the new evidence. During the CRU's independent investigation, they interviewed Jackson, who affirmed his affidavit and provided information about the crime scene that was not released to the public.
The investigation also concluded that there had been no contact between Jackson and Berry since the time of Berry's conviction.
Prosecutors also obtained a written declaration from Berry's former cellmate, Richard Iden, who admitted to submitting false testimony that Berry confessed to the murder. Iden told prosecutors that he lied on the stand after reaching a plea deal to settle multiple felony counts.
As a result of the new evidence, prosecutors reviewed Berry's case and concluded that he was innocent.
"In this case, a confession by Mr. Jackson, and verification of that and other information by our CRU, resulted in our decision to no longer oppose Mr. Berry's request for conviction relief," said Clark County District Attorney Steve Wolfson in a statement.
A press release from the Rocky Mountain Innocence Center (RMIC), who worked in conjunction with Berry's attorneys to collect the exonerating evidence, said that a judge overturned the conviction and ordered Berry's release on Wednesday.
This is the first case the CRU has reviewed that resulted in a prisoner being released.
"My goal in creating the CRU was to provide a way for certain cases to be reviewed independently and evaluated on a variety of factors, including new evidence," Wolfson said. "The end result is Mr. Berry will be released from prison after over two decades behind bars."