Trump & Putin to meet on sidelines of G20 summit, White House confirms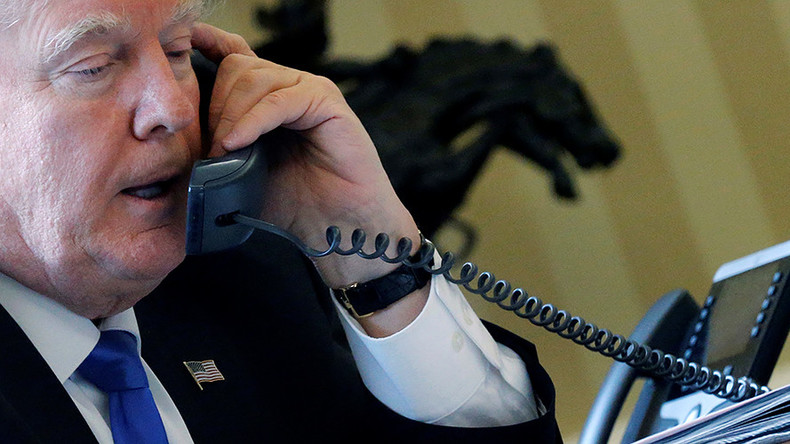 US President Donald Trump and Russian President Vladimir Putin will meet on the sidelines of the G20 summit in Hamburg, Germany, national security adviser H.R. McMaster has confirmed. It will be the two leaders' first meeting since Trump's inauguration.
Trump plans to meet with a number of world leaders, including Putin, at the Group of 20 summit, which will take place next Friday and Saturday, McMaster told reporters on Thursday.
When asked if Trump would ask Putin about alleged Russian meddling in the 2016 presidential election, McMaster and economic adviser Gary Cohn said that the agenda for this and other meetings are "not finalized" yet.
"There is no specific agenda. It's really going to be whatever the president wants to talk about," McMaster said.
Trump intends to address both "irritants" and areas on which Washington and Moscow can work together, McMaster said. "Our relationship with Russia really isn't different" from the United States' relationships with other countries, he added.
Such "irritants" include disagreements over how to approach the six-year Syrian civil war, with Russia supporting the government of President Bashar Assad and the US backing anti-government rebels; Moscow's posture towards Ukraine; and American sanctions on Russia for its alleged election interference. Trump has not officially accepted the US intelligence community's assessment about the meddling.
On Wednesday, Russian Foreign Minister Sergey Lavrov said that Trump and Putin would most likely meet.
"We assume that contact will take place, since the two presidents will be at the same time in the same city, the same building, the same hall. It won't be right, I guess, if they aren't able to talk there and to discuss a lot of issues," Lavrov said at a joint press conference with his German counterpart, Sigmar Gabriel, in Krasnodar, Russia.
McMaster's confirmation comes after Moscow said that there was no sidelines meeting planned, the Washington Examiner reported.
"They will meet in any case there, on the sidelines of this summit, but no [separate] meeting is planned at the moment," Kremlin spokesman Dmitry Peskov said.
Trump will also meet with UK Prime Minister Theresa May, German Chancellor Angela Merkel, Japanese Prime Minister Shinzo Abe, South Korean President Moon Jae-in, Chinese President Xi Jinping and Mexican President Enrique Peña Nieto, among others. Trump and Moon are meeting at a summit in Washington this Thursday and Friday.
Before heading to the G20 meeting, Trump will travel to Warsaw, Poland, where he will deliver a speech and attend the Three Seas Initiative Summit of central and eastern European nations. That summit is designed to bolster regional trade and infrastructure. Trump is also expected to meet with Polish President Andrzej Duda.
Trump has also accepted the invitation of French President Emmanuel Macron to spend Bastille Day, France's national holiday, in Paris on July 14, the US president announced Wednesday.
"The two leaders will further build on the strong counter-terrorism cooperation and economic partnership between the two countries, and they will discuss many other issues of mutual concern," the White House said in a statement.
The invitation comes as Trump's long-announced but as-yet-unplanned state visit to the United Kingdom remains on hold. Trump's visit was initially planned for this summer. Prime Minister Theresa May invited Trump after they were pictured holding hands together on the White House lawn in January.
The invitation comes as Trump's long-announced but unplanned state visit to the United Kingdom remains on hold. May initially invited Trump to visit this summer after they were pictured holding hands together on the White House lawn in January.
The visit threatened to spark large-scale demonstrations, however. Trump reportedly later told May he would not go ahead with the visit if it was likely to cause widespread protests.
On June 21, when Queen Elizabeth II addressed Parliament, her speech did not mention the US president's visit. The Queen's Speech traditionally includes the government's planned state visits, but the program announced for the next two years only contained a reference to welcoming King Felipe and Queen Letizia of Spain in July.
You can share this story on social media: