Man arrested for ramming his car into Ten Commandments monument in Arkansas (VIDEO)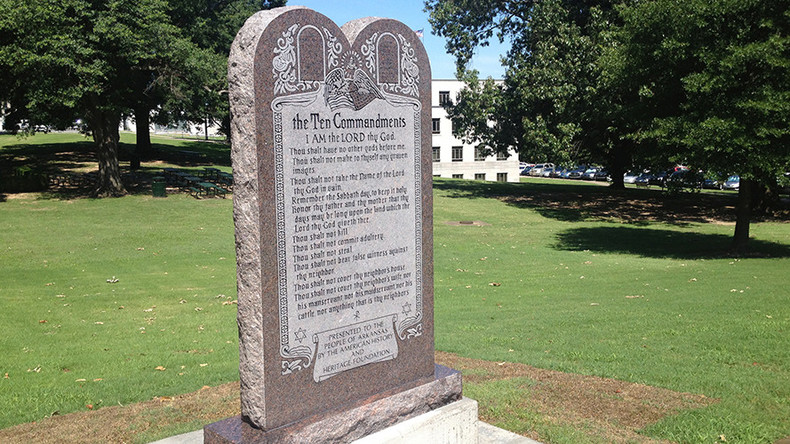 An Arkansas man who broadcast himself on Facebook Live ramming his car into a newly installed stone monument to the Bible's Ten Commandments outside the Arkansas State Capitol has been arrested. State lawmakers say the monument will be replaced soon.
Michael Reed, 32, broadcast a livestream video on Facebook that shows him shouting, "Freedom," before driving into the Ten Commandments monument in Little Rock on Wednesday morning.
The six-foot monument, which was installed less than 24 hours prior, was "shattered into a lot of pieces," said Chris Powell, a spokesman for the Secretary of State and Capitol Police, according to Reuters.
According to the incident report from Capitol Police, an officer immediately arrested Reed after witnessing him ram into the monument. He was taken to the hospital, where he was cleared medically and then transported to the Pulaski County Jail "without incident."
Reed was booked at 7:34am Wednesday on charges of trespassing upon State Capitol grounds, first-degree criminal mischief and defacing objects of public interest.
Police did not disclose Reed's motive for smashing the monument. However, Reed posted another video on Facebook before the crash, explaining that, while he was a "firm believer" in Jesus Christ, he did not support the monument because he viewed it as a violation of the separation of church and state.
"I'm a firm believer in that part of salvation is that we not only have faith in Jesus Christ, but obey the commands of God and that we confess Jesus as Lord," Reed said. "But one thing that I do not support is the violation of our Constitutional right to have the freedom that... guarantees us the separation of church and state, because no one religion should the government represent."
In the video, Reed explained that he was using his own vehicle to destroy the monument and set up a GoFundMe page to raise funds for a new car. WCVB reported that Reed had raised just $45 of his $20,000 goal. The page has since been taken down.
In 2014, police said Reed crashed his car into another monument of the Ten Commandments outside Oklahoma's capitol. Reed was not formally charged in that incident, but he was treated for mental health issues.
In a letter he wrote to Tulsa World after that incident, Reed apologized for his actions, explaining that his behavior was the result of a mental breakdown that involved hearing the voice of Satan in his head.
"I started to hear that Satan was the real God, and God the Father was a cruel god because he visits the sins of the father on the sons," Reed wrote in his letter.
The monument in Arkansas, which was built with private funds from the American History & Heritage Foundation, was steeped in controversy for years. The American Civil Liberties Union (ACLU) threatened to sue to stop the construction.
State Senator Jason Rapert (R-35), who wrote the legislation that allowed the religious monument to be installed on the grounds of the State Capitol, told KUAR that it would be replaced soon.
Rapert held a press conference at the Capitol on Wednesday, where he accused the ACLU of inciting the incident with their rhetoric.
'"What culpability do some of these groups have when they threaten to tear down that monument?" Rapert said, according to KUAR. "What culpability do they have to hold their rhetoric down and not stir and foment hatred and violence that will get unstable people to get to do what's been done here today?"
Arkansas State Senator Trent Garner (R-27) also spoke out on Wednesday to condemn Reed's actions, calling for the monument to be rebuilt "bigger and higher to show that will not be intimidated."
Arkansas Governor Asa Hutchinson (R) called the incident "very troubling," while former Governor Mike Huckabee called Reed an "idiot" and tweeted that he "wasn't Moses and it wasn't Mt. Sinai."
Resorting to property destruction is never the answer to a policy disagreement. Very troubling that a Capitol monument is destroyed.

— Gov. Asa Hutchinson (@AsaHutchinson) June 28, 2017
Some idiot in my home state broke all 10 commandments at the same time. He wasn't Moses and it wasn't Mt. Sinai. https://t.co/r8hXrJ32JZ

— Gov. Mike Huckabee (@GovMikeHuckabee) June 28, 2017
You can share this story on social media: