Ten Commandments slab removed from Oklahoma capitol grounds
Published time: 6 Oct, 2015 20:14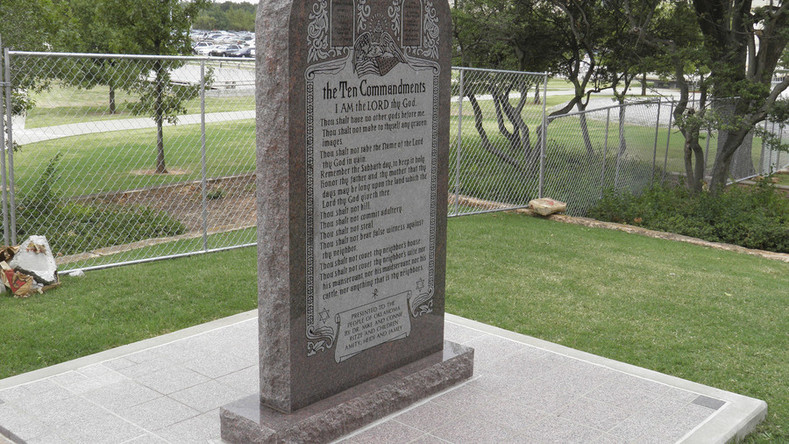 A granite monument inscribed with the Biblical Ten Commandments has been removed from land in front of the Oklahoma State Capitol. Its placement on government land was ruled a violation of state law.
The Oklahoma Supreme Court ruled in June that the two-ton religious display violates the state constitution's prohibition on the use of public property to support "any sect, church, denomination or system of religion."
READ MORE: Oklahoma's top court orders removal of 10 Commandments monument

Wilbert Memorials, the same private contractor that built and installed the monument, is being paid $4,700 to dismantle the monument, which it began doing around 10:30 p.m. local time on Monday. It's not clear who footed the bill, but officials told KFOR that no taxpayer money was used to remove the monument.
The company carried out the removal late at night to avoiding disturbing workers and to keep protestors from demonstrating while heavy equipment was being used, according to Office of Management and Enterprise Services spokesman John Estus.
"We wanted it to be done as quickly and efficiently as possible, and doing it at night gave us the best opportunity to do that," Estus said.
The Oklahoma Highway Patrol had increased security around the Ten Commandments before the removal, erecting a barrier to keep visitors from getting too close to it.
READ MORE: Satanic Temple still plans to unveil devil statue in Detroit, despite protests

The stone slab will be moved to the nearby offices of Oklahoma Council of Public Affairs, a conservative think tank.
The monument's right to exist on public land was defended by several Republican lawmakers, who argued that it memorialized a historical event rather than religion.
Since the courts rejected that argument, supporters of the religious display are looking for other solutions to return it to what they think is its rightful place in front of the capitol.
"Now we know we have to change the Constitution," Former state Representative Mike Reynolds said. "It would be good to get rid of some of the Supreme Court justices, too."