Oklahoma's top court orders removal of 10 Commandments monument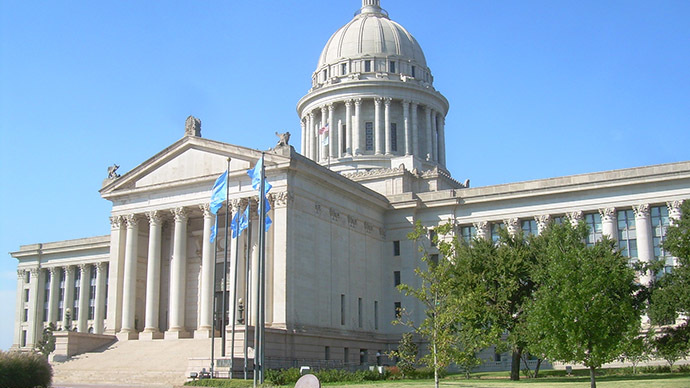 Oklahoma's top court ruled that the 10 Commandments monument situated on capitol grounds violates state laws prohibiting the use of government property for the benefit of a religion.
The decision from the state Supreme Court also puts an end to donations for statues proposed by animal rights group, a Hindu leader, and the New York Satanic Temple, which were meant to be erected on the capitol grounds as well.
The ruling stems from an American Civil Liberties Union lawsuit filed on behalf of several Oklahomans challenging the constitutionality of the monument. The lawsuit argued that it violated the state's constitution, which bans public property from supporting "any sect, church, denomination or system of religion." The suit also argued that the monument violated provisions of the US Constitution forbidding the establishment of religion by government.
READ MORE: Holidays from Hell: Satantic Temple wins right to erect 'fallen angel' display in Flordia
In a 7-2 ruling handed down on Tuesday, the Oklahoma court agreed.
In the lawsuit, the plaintiffs argued that the placement of the monument at the Capitol created "a more divisive and hostile state for many Oklahomans," and that the "state has no business telling it citizens what to believe."
Lawmakers had argued that the monument was not serving a religious purpose but was meant to mark a historical event
That prompted other groups, including Satanists, a Hindu leader in Nevada, an animal rights group, and the satirical Church of the Flying Spaghetti Monster to submit requests for putting up their own monuments marking what they said were historical events.
The New York-based Satanic Temple was seeking to erect a 7-foot tall statue depicting Satan as Baphomet, a goat-headed figure with horns, wings and a long beard. The Hindu leader wanted to install a statue of Lord Hanuman, a Hindu deity with an ape-like face and a tail that is known for incredible strength.
READ MORE: Satanists unveil 7-foot monument they want to erect at Oklahoma State House
The current stone monument inscribed with the 10 Commandments, with a weight of 2,400 pounds of pure granite and height of 6 feet (1.8 meters), is a replica of an earlier one which occupied the State Capitol grounds from 2012 until it was smashed to pieces in October 2014 when a man drove a car across the Capitol lawn and crashed into it. The man was arrested and admitted for mental health treatment. The monuments were paid for with private money and supported by conservative lawmakers.
In March, a US judge dismissed a case filed by an atheist group that was seeking to remove the monument from State Capitol grounds, saying the plaintiffs failed to show standing to bring the suit, according to Reuters.
You can share this story on social media: