US envoy Nikki Haley: No place for Assad in post-ISIS Syria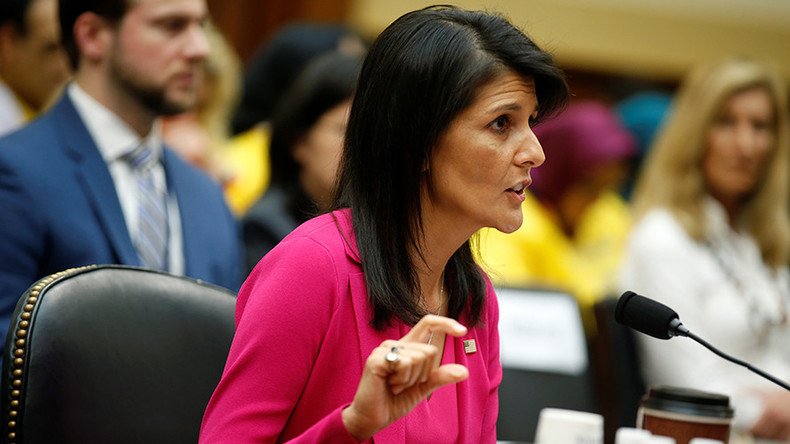 Nikki Haley, the US Ambassador to the United Nations, has told Congress that the US should decide on its role in Syria for the time when ISIS is driven out, "because a healthy Syria is not with Assad."
"You can't have Assad in power with the healthy Syria," said Nikki Haley when testifying at the House Foreign Affairs Committee on Wednesday. "A post-ISIS Syria doesn't mean all goes back to where it should be happy and good again," she added.
The Trump administration has so far stated that its goal in Syria is to defeat ISIS, and that it is not to remove Syrian President Bashar Assad from power.
"Eventually [Assad's future in power] would be up for the people of Syria to decide," the State Department said on June 22 at a briefing.
Ambassador Haley's latest remarks at the hearing, titled "Advancing US Interests at the United Nations," could indicate a possible change in America's future objectives on Syria.
She had previously said that Washington's priorities in Syria had changed with the new administration, and the US would no longer focus on the removal of President Bashar Assad.
"Our priority is no longer to sit there and focus on getting Assad out," Haley said in March.
Currently, the US is backing Syrian rebels of the Syrian Democratic Forces (SDF), a coalition of Arab and Kurdish fighters, in a push to take Raqqa from ISIS. On June 18, the US shot down a Syrian fighter jet over Raqqa, saying it was to protect the SDF. The Syrian government said it was targeting ISIS and called the airstrike a "flagrant aggression."
Russia, which has supported the Syrian army in its operations against terrorist groups in the country, said the downing of the Syrian plane was "a cynical violation of Syria's sovereignty."
On Monday night, the White House issued a statement saying that the US had identified "potential preparations for another chemical weapons attack by the Assad regime," and warned that "Assad and his military will pay a heavy price" if an attack happens.
Moscow disagreed with the White House's characterization of the chemical weapons threat.
"We heard about this statement. We don't know what it's based on," President Vladimir Putin's spokesman Dmitry Peskov said. "And, of course, we strongly disagree with the wording 'another attack,' because, as you know, despite all the demands of the Russian side, there was no independent international investigation of the previous tragedy with the use of chemical weapons. We do not believe it is possible to rest the responsibility on the Syrian armed forces."
READ MORE: US threats to Syria's legitimate government unacceptable – Kremlin
The US blamed the Syrian government for the chemical attack on the rebel-held town of Khan Sheikhoun in northwest Syria on April 4, and three days later, launched dozens of Tomahawk missiles at a Syrian airbase in retaliation.
On Wednesday, Ambassador Haley told Congress that President Trump's warning Monday prevented "an incident" and "saved many lives," when asked if she saw the Syrian leadership take any steps in response to that warning.
You can share this story on social media: