US threats to Syria's legitimate government unacceptable – Kremlin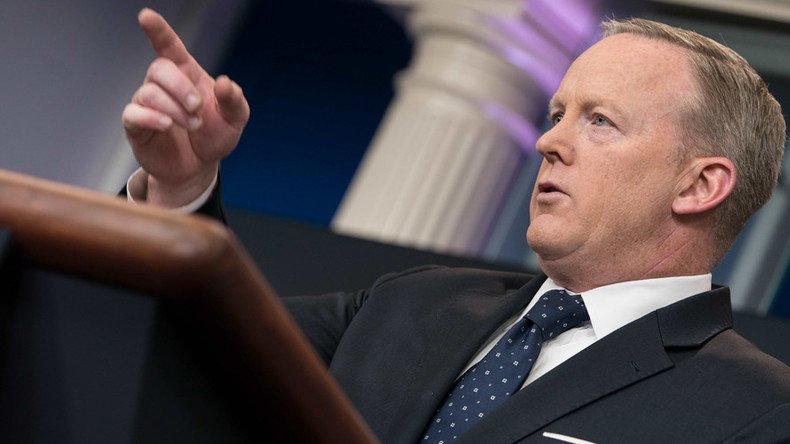 Russia has slammed Washington's threats against the Syrian government following a recent White House statement alleging that President Bashar Assad's forces are preparing to use chemical weapons.
"I am not aware of any information or threat of using chemical weapons," Russian President Vladimir Putin's spokesman Dmitry Peskov told journalists on Tuesday.
Earlier, White House Press Secretary Sean Spicer issued a statement claiming the US "has identified potential preparations for another chemical weapons attack by the Assad regime that would likely result in the mass murder of civilians."
"We heard about this statement. We don't know what it's based on. And, of course, we strongly disagree with the wording 'another attack,' because, as you know, despite all the demands of the Russian side, there was no independent international investigation of the previous tragedy with the use of chemical weapons. We do not believe it is possible to rest the responsibility on the Syrian armed forces," Peskov said.
Washington blames the April attack, which killed dozens of civilians in Khan Sheikhoun, Idlib Governorate, on the Assad government. Moscow and Damascus both slammed the lack of definitive evidence to prove the accusations.
The Kremlin spokesman also warned of potential provocations by terrorists.
"You know that cases of the use of toxic chemical agents by militants of Islamic state [IS, formerly ISIS/SIL] and other criminal groups have been established on multiple occasions. There certainly is the potential danger of such provocations recurring," Peskov stated.
Any threats against the Syrian government are "unacceptable," according to Peskov, who reiterated the call for an investigation into the attack in Idlib.
"Without carrying out an investigation it is impossible, illegitimate and absolutely wrong, in regards to achieving the final goals on Syrian reconcilement, to put the blame on Assad. Of course, we consider unacceptable any such threats to the legitimate government of the Syrian Arab Republic," the spokesman said, adding that Moscow considers any use of toxic chemical agents inappropriate.
Syria has denied White House allegations of preparing to use chemical weapons, saying they "foreshadowed a 'diplomatic battle'" in the UN, according to AP, citing the minister for national reconciliation, Ali Haidar.
You can share this story on social media: