Liberty lost? Americans increasingly unhappy with levels of freedom, survey says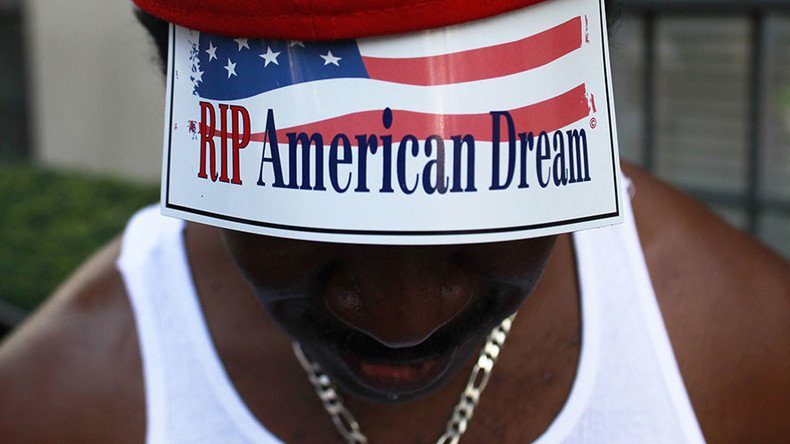 America is often referred to as the "Land of the Free," but as citizens prepare to celebrate the Fourth of July, their satisfaction with the country's freedom is significantly lower than it was a decade ago, according to a newly released Gallup poll.
The survey found that although 91 percent of Americans were satisfied with the freedom in their lives in 2006, only 75 percent feel the same way today.
Furthermore, while the US ranked 11th worldwide (out of 118 countries) in the 2006 Gallup poll, it came in 71st (among 139 countries) in the current poll.
"This puts the US in the bottom half of all countries measured," Gallup managing partner Jon Clifton wrote on the organization's blog.
The US decline is unique, as such results are not happening in other wealthy democracies.
For example, Denmark, Finland, and Canada were all tied for first place in 2006, with 96 percent of their populations satisfied with their freedom. Those figures are "virtually unchanged" in the recent poll, with all three remaining in the top 11.
Clifton noted that two things typically come to mind when people are asked about their personal freedom - their government and their financial situation.
Corruption seemed to play a major role in the recent poll, with 76 percent of respondents stating that they believe corruption is "widespread throughout the government." That figure represents a sharp rise from the 2006 poll, when just 59 percent shared the same belief.
As for the financial situations of Americans, Clifton noted that "despite widespread reports that the US economy is improving, many Americans may not be feeing the same economic gains in their daily lives."
He noted that although household income is up since 2011, it's flat since 2007. He went on to state that workforce participation is the lowest it's been in 40 years, despite unemployment dropping below 5 percent.
Clifton cited a separate poll, the 2017 Index of Economic Freedom, which also found a significant drop in America's standing in the world since 2016. That poll is mostly based on government regulation – another major factor that people usually consider when thinking about their freedom.
The most recent Gallup poll was conducted by interviewing approximately 1,000 adults, aged 15 and over, in more than 150 countries between 2006 and 2016. The interviews took place in person and over the telephone.
You can share this story on social media: