Americans divided on basic identity & threats to their way of life – poll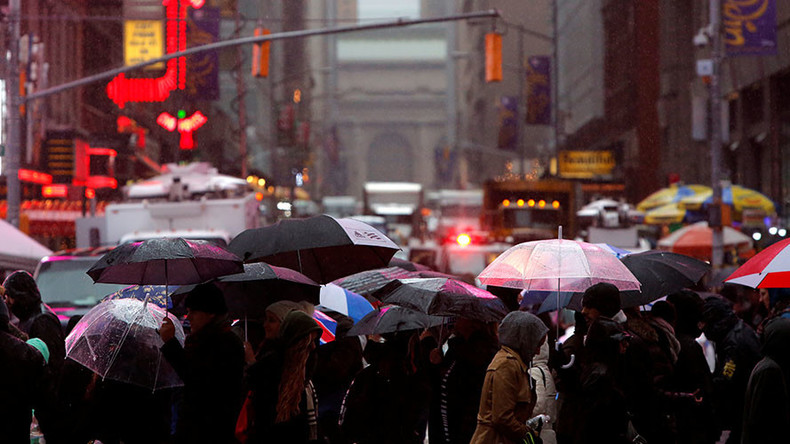 Americans have a lot more than its tweet-happy president to worry about, as according to a new poll, people in the US are starkly divided on what it means to be an American and the greatest threats to their way of life.
Both sides come together to agree that the country is losing its identity, so at least there's that.
When the Associated Press-NORC and the Center for Public Affairs Research asked participants about the essential aspects of American identity, Republicans cited a culture grounded in Christian beliefs and maintaining the traditions of early European immigrants. Democrats pointed to the country's history of offering refuge and its mixed culture as defining elements of identity.
About 65 percent of Democrats felt a mix of global culture was an important part of the country's identity, while only 35 percent of Republicans agreed. While 57 percent of Republicans said Christianity was important, only 29 percent of Democrats felt the same.
AP-NORC Poll: Although Americans can't agree on what it means to be American, 7 in 10 worry nation losing identity. https://t.co/O7llndOlbI

— The Associated Press (@AP) March 5, 2017
To Democrats, the State's history of accepting those fleeing persecution was a vital aspect of its identity, with 74 percent agreeing compared to Republicans' 55 percent. To 46 percent of Republicans, the culture of the early European settlers was very important, while only a quarter of Democrats felt the same.
Both sides of the aisle agreed though that the US is losing its national identity, with 71 percent saying this is the case.
Respondents were asked what they felt was the greatest threat to "the American way of life." The results showed Republicans fear illegal immigration as the greatest threat, while Democrats chose the country's political leaders, polarized politics and inequality as the most pressing threats to the American way of life. More than half of those polled said political polarization is a big threat.
Fifty seven percent of respondents said immigrants should adopt American culture upon arrival, while 42 percent said a country's culture should change as new people arrive.
While nearly 80 percent of those polled are proud of the country's military, only 3 out of 10 are proud of how the Social Security system treats its recipients.
The poll was conducted in February using a representable sample of 1,004 adults.
The people polled agreed that a fair judicial system, freedoms of the Constitution and the American dream were part of the American identity.
You can share this story on social media: