Americans think fighting racism is more important than free speech – poll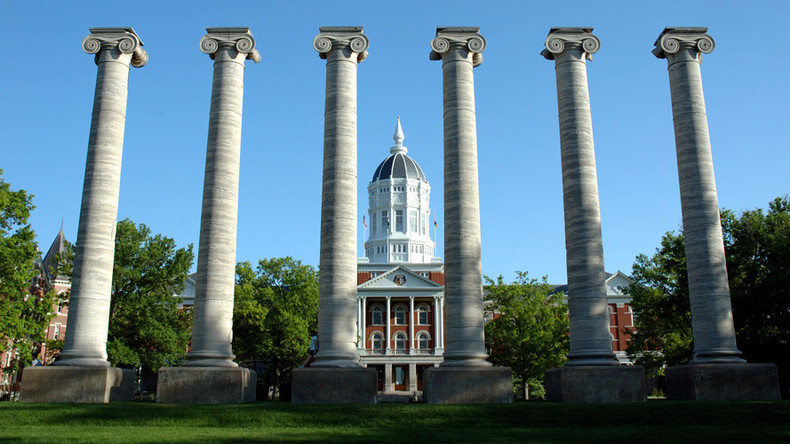 A plurality of Americans are in favor of universities curtailing the free speech rights of students, according to a new poll. At the same time, most Americans are against the creation of diversity offices at colleges.
A HuffPost/YouGov poll conducted in December and released Monday surveyed 1,000 American adults about their attitudes towards the restriction of free speech and promotion of diversity on campus. This comes at a time of racial unrest at universities across the country and subsequent crackdowns on free expression by school administrations.
Forty-three percent of respondents said that making sure that students have an environment "free from discrimination, even if that means placing some limits on what students can say," is a priority, while 38 percent of those polled thought that students should have an "absolute right" to free speech.
Similar sentiment was expressed participants were asked with whether colleges have "a responsibility to teach students about issues related to racism," with 45 percent agreeing that they do and 41 percent challenging such a notion.
Student activism against perceived racism was thrust into the national spotlight in the fall, resulting in schools like the University of Oklahoma and the University of Missouri creating departments that are dedicated to diversity. The YouGov poll showed, however, that only 32 percent of respondents felt that such initiatives are "important to support," while 42 percent thought that they were a waste of colleges' money.
When the poll asked about concrete action against racism, however, the average sentiment warms up: 72 percent of all participants believe that a school's president has a responsibility to address "racist incidents" on campus, with only 17 percent believing that the school's head does not.
Respondents got more hawkish on free speech when asked about consequences: 53 percent percent of respondents believe that students who exercise free speech in an offensive manner should be punished, whereas 28 percent were against such measures.
The Huffington Post – one of the parties running the poll – reported, perhaps unsurprisingly, that the responses of Americans are divided along party lines. Republicans tended to favor free speech measures, while Democrats favor measures to fight perceived racism.
Sixty-two percent of Republican respondents thought that it was unnecessary for colleges to educate students on race relations, whereas 66 percent of Democratic respondents did. Seventy-one percent of Democrats support punishments for students who made offensive comments, and only 44 percent of Republicans agreed.
Only 4 percent of black respondents thought that there should be an "absolute right" to free speech on campus, while 69 percent wanted an environment free of discrimination but with restricted expression. White respondents, on the other hand, were slightly less supportive of speech restrictions.
You can share this story on social media: