What freedom of speech? Prank petition to repeal First Amendment gets support at Yale (VIDEO)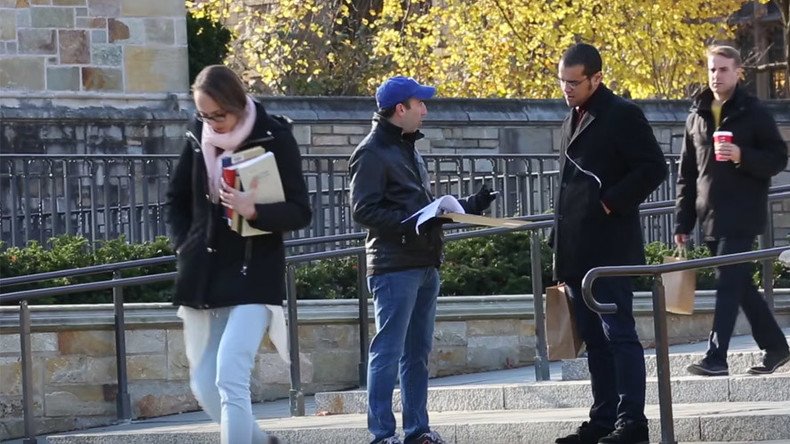 "Fantastic," "love it," "I'll sign for you, guys": Future presidents, lawyers and devoted human rights defenders at Yale offered their backing to a prankster's petition to repeal the First Amendment. It protects freedom of speech, the press and religion.
US political satirist and filmmaker Ami Horowitz approached the students at one of the most prestigious universities in the world asking its attendees to sign a petition in favor of repealing the First Amendment.
"I think it is fantastic. I absolutely agree," said one guy, while another commented: "I appreciate what you are trying to do."
READ MORE: False flag? 'Tolerance' of ISIS, Israel tested in social experiment at Berkeley (VIDEO)
"Brilliant," "love it," "I totally agree" and "…great," were some of the compliments heard in support of the "anti-free speech" petition, which grew as he approached more students.
"In under 60 minutes on campus, I collected over 50 signatures from the Yale University community calling for the repeal of the First Amendment of the US Constitution," Horowitz said in his video.
In an interview with RT the prankster said that he chose Yale as everyone remembers the "whole free-speech debate that is going on in campuses across the US".
READ MORE: Yale students march against racist incidents on campus
"I thought if I got two or three signatures, maybe I can do something with that. But then I thought it is not really going to work. But then I realized that the majority of kids I spoke with were signing away the most precious fundamental right that America has. It shocked me and I have to say it really saddened me," he said.
You can share this story on social media: