'No new bill' on Russia sanctions, Senate violated procedure – White House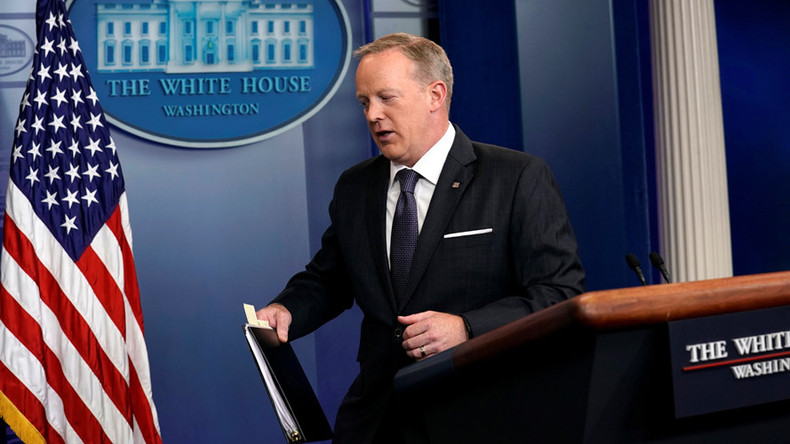 President Donald Trump will disregard the recent Senate bill imposing new sanctions on Russia because it violated the constitutional requirement that revenue legislation originate in the House of Representatives, the White House has said.
On June 15, the Senate voted 98-2 to impose new sanctions against Russia and codify the existing ones into law, in order to tie Trump's hands when it came to the sanctions policy. In doing so, however, they apparently violated the origination clause of the US Constitution, which requires that any bill raising revenue originates in the House.
"There is no new bill at this time," White House press secretary Sean Spicer told reporters on Monday, asking if they were referring to the bill that "the Senate parliamentarian ruled didn't follow proper procedure."
The Senate sanctions bill would have been a "significant shift of power" from the executive branch to Congress, in the words of Senator Bob Corker (R-Tennessee), chairman of the Senate Foreign Relations Committee. It targeted Russia's energy sector, individuals accused of cyberattacks, and companies supplying arms to the Syrian government.
Though the Senate has been sharply divided along partisan lines, the sanctions bill received bipartisan support, with only Senators Rand Paul (R-Kentucky) and Bernie Sanders (I-Vermont) opposed.
The House is now looking into its own version of the bill, Spicer said, but declined to comment on what it might look like.
"When it comes to how the president works," Spicer said, "he doesn't telegraph what he's going to do on a lot of these things."
The question came in reference to several tweets by Trump on Monday morning, in which he blasted his predecessor Barack Obama for doing nothing about alleged Russian attempts to influence the 2016 presidential election because he thought that Democratic nominee Hillary Clinton would win.
The reason that President Obama did NOTHING about Russia after being notified by the CIA of meddling is that he expected Clinton would win..

— Donald J. Trump (@realDonaldTrump) June 26, 2017
...and did not want to "rock the boat." He didn't "choke," he colluded or obstructed, and it did the Dems and Crooked Hillary no good.

— Donald J. Trump (@realDonaldTrump) June 26, 2017
"There is no collusion and no obstruction" involving the Trump campaign, the president said, adding, "I should be given [an] apology!"
During the campaign, Clinton accused Trump of being a Russian puppet. After losing the election in November, her campaign blamed alleged Russian interference, accusing Moscow of being behind the hacking and publication of emails from the Democratic National Committee and Clinton's campaign chair John Podesta. The latter were published by WikiLeaks every day in the month preceding the election.
In January, the director of national intelligence published a joint report with the CIA and the NSA accusing Russia of "influencing" the election, but the declassified report contained no evidence to back those accusations up.
You can share this story on social media: