Mistrial declared again after jury deadlocks in Cincinnati cop's murder retrial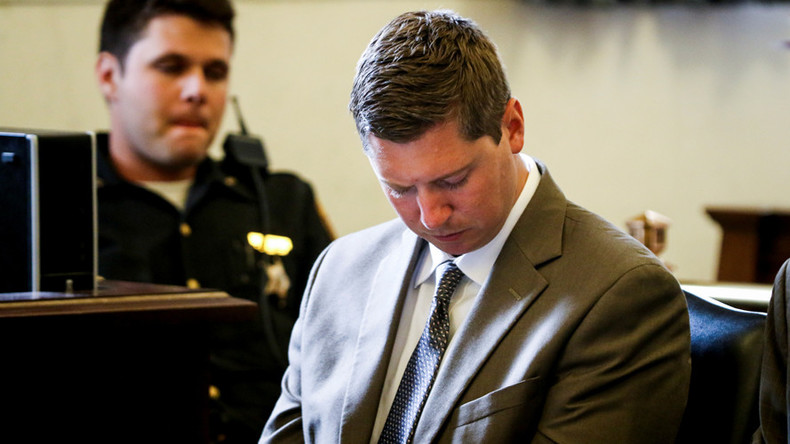 A judge in Ohio declared another mistrial in the case of a former University of Cincinnati officer who fatally shot an unarmed black motorist during a traffic stop in 2015. The jury was not able to reach a verdict after 30 hours of deliberation.
On Friday, Hamilton County Judge Leslie Ghiz declared a mistrial after the jury sent her a note, saying they were "almost evenly split regarding our votes towards a final verdict."
"We have given this extensive deliberation with opportunity for both sides to express their positions. We cannot proceed coming to a unanimous decision," the jury wrote, according to CNN.
Ray Tensing, 27, was charged with murder and voluntary manslaughter after he shot Samuel DuBose, a 43-year-old African-American man during a traffic stop in July 2015. Tensing said he stopped DuBose near the University of Cincinnati for a missing front license plate.
Video of the incident was captured on Tensing's body camera. The graphic footage shows the two had a brief struggle before Tensing fired his gun.
Tensing testified that he only shot because he feared for his life. He claimed that his arm became trapped inside the car, and as DuBose pulled away, he was dragged up to 20 feet. Tensing said he thought DuBose was "actively trying to kill me" with the car, according to the AP.
In closing arguments, Tensing's attorney, Stew Mathews, argued that DuBose put Tensing's life in danger when he "elected to start that car, put it into gear and take off with Ray Tensing's arm trapped inside it."
"I submit to you that is a threat to his life and to his well-being," Mathews said, according to CNN.
However, Police Chief Scott Haug, a use-of-force expert, testified that Tensing was "unreasonable in this circumstance," and said that firing at DuBose was "not justified," according to WKRC.
Prosecutors argued that the video only shows Dubose's car moving for around a second before Tensing fired his gun.
"Ray Tensing had a choice to make that evening," Hamilton County Assistant Prosecutor Seth Tieger said, according to CNN. "Do I disengage and let Sam DuBose drive away or do I kill him?"
Alicia Napier, a civilian witness also testified that she was "100 percent sure" that the car moved after Tensing shot, according to the AP. Another University of Cincinnati police officer who witnessed the incident testified that he heard gunshots after the sound of tires screeching.
Last Thursday, the judge rejected the prosecution's request to allow jurors to consider a lesser charge of reckless homicide.
Ghiz told the prosecutors they had "every opportunity" to add the charge before the retrial began.
"It is the prosecutor's job, not this court's job, to include reckless homicide," Ghiz said, according to the Associated Press.
To convict Tensing on murder charges, the jury would have to find he purposely killed DuBose.
Jurors told Ghiz that they were deadlocked earlier on Friday, and she told them to continue to deliberate. Several hours later, the jury said they were still deadlocked and Ghiz declared a mistrial.
A mistrial was also declared in Tensing's first trial after the jury deliberated for 25 hours.
On Friday, the DuBose family demanded yet another retrial and called on the community to join them in "peaceful protest of this unjust result."
"The family commends the prosecutors for their strong presentation in this case, but we are outraged that a second jury has now failed to convict Ray Tensing for the murder of our beloved Sam DuBose," the family said in a statement obtained by WCPO.
This is the third time in the past week that a US police officer has been tried for shooting a black man without being convicted.
The local chapter of the NAACP said that the recent trials have sent a message: "If you are black, all the police officer has to do is say they were in fear of their life and they get away with murder because the victim (is) black," according to the AP.