Cincinnati cop pleads not guilty to murder in Dubose shooting, bail set at $1 million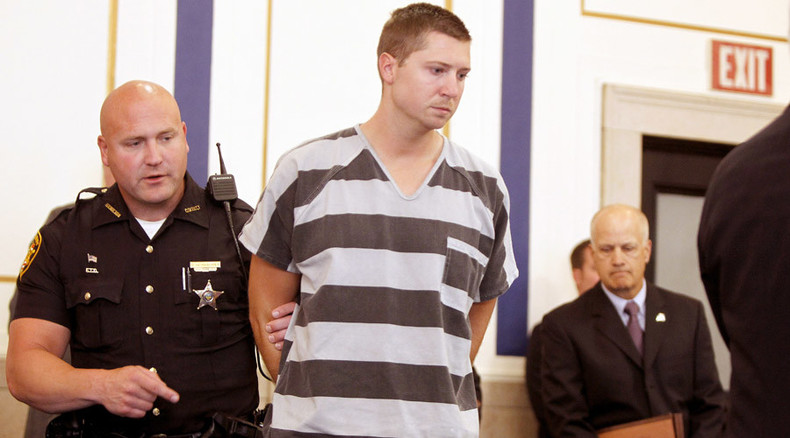 The former University of Cincinnati police officer who was charged with murder after shooting an unarmed man in the head during a traffic stop pleaded not guilty during his arraignment in an Ohio court. Bond was set at $1 million.
Ray Tensing, 25, was fired from his position with the University of Cincinnati Police Department (UCPD) on Wednesday, after being indicted for murder and involuntary manslaughter in the shooting death of Samuel Dubose, 43, on Sunday night.
READ MORE: Cincinnati police officer charged with murder of unarmed man
On Thursday, Tensing, wearing shackles and a black-and-white prison jumpsuit, stood with his eyes closed and head bowed as he pleaded not guilty to the two charges, the Cincinnati Enquirer reported. Hamilton County Common Pleas Judge Megan Shanahan then set his bond at $1 million.
Dubose's family broke out into cheers at hearing the high bond amount, but were quickly silenced by Shanahan. Outside the courtroom, they briefly broke into a chant of "No justice. No peace."
"If this man doesn't get convicted, they can shoot me in the head, too," Kimberly Thomas, DuBose's friend, said.
Mark O'Mara, the family's attorney, told the Cincinnati Enquirer that Tensing should not have been eligible for bail.
"This was murder without justification," he said. "Tensing was in a position of authority, and should be held to a higher standard."
Tensing's lawyer, Stuart Matthews, disagreed, telling WCPO that the bond amount was too high.
"My reaction to the bond is that it is not really reasonable, although the judge did make it a ten-percent bond which I think helps us out," Matthews said afterward.
The hearing lasted just two minutes and 34 seconds, WCPO reported.
Tensing, who is white, pulled over Dubose, who is black, because the officer said that the driver was missing the front license plate on his car. After a brief struggle between the two men, Tensing shot Dubose in the head.
READ MORE: Unarmed black man shot in head by cop during Cincinnati traffic stop
Matthews told the Cincinnati Enquirer on Tuesday that his client was in fear for his life before shooting Dubose and that he thought he would be run over by the car. The released video of the incident shows that the car starts moving after the shot.
"He thought he was going to be sucked under the car," Mathews told reporters.
"He's feeling like he was run over by a train." he said of Tensing after the arraignment. "He's still in shock."
Other police officers involved with the Dubose case are now being investigated as well, the Hamilton County Prosecutor's Office confirmed to NBC News Thursday afternoon.
Before his firing, Tensing had been a police officer for just over four years, starting as a part-time officer in Greenhills, Ohio in 2011. He became a full-time policeman in March 2013 and joined the UCPD in April 2014.
A public records request by the Cincinnati Enquirer revealed that Tensing used a Taser on a motorist during a traffic stop in January 2012. The officer claimed the driver was resisting arrest and had assaulted him.
Tensing "had suspect at the side of his car. Suspect started hitting officer and trying to get away. I stopped to help officer and grabbed suspect's leg. Suspect continued to fight. Officer told him to stop or he would get Tazed. Suspect continued to fight so officer Tazed him and took him into custody," a witness to the 2012 incident said in a statement to the Greenhills PD.
Meanwhile, the University of Cincinnati reopened on Thursday after a quiet night. The school had closed at 11 a.m. local time on Wednesday in anticipation of unrest after Hamilton County Prosecutor Joe Deters announced the results of the grand jury's inquiry into the Dubose shooting.
Cincinnati Police Chief Jeffrey Blackwell met with students on the university campus Wednesday evening and spoke with them about the case. They expressed frustration, anger and awareness of current events around the country, he told WCPO.
"People are hurting and they have a right to voice not only their pain, but their frustration," the chief said. "I always say what affects us anywhere affects us everywhere."
His department has taken over patrolling the neighborhoods surrounding the University of Cincinnati from the UCPD. He promised the students that the city's force would not police the community unconstitutionally, and that his goal is always to be fair and transparent.
Cincinnati Mayor John Cranley told RT that he is proud of how the city has handled the aftermath of Dubose's death.
"Cincinnati is a role model for police-community relations. Since 2001 we've made a number of changes ‒ we went through the situation [that] Baltimore and other cities have gone through this year back in 2001," he said. "So we as a community said that we gotta change the way we do community policing, and those changes have proven themselves to be effective even in a crisis."
Cranley noted that the Cincinnati Police Department doesn't need to make any changes in how it operates because it has already done so.
"Remember, [Tensing] was not a Cincinnati cop, it was a campus cop at the University of Cincinnati," he said. "So they need to reform."
RT's Manila Chan is in Cincinnati covering the fallout from Tensing's indictment. Tune in to RT America at 4 p.m., 5 p.m. and 8 p.m. ET for her updates, or follow her on Twitter at @manilachan.