Highway road rage leads to fiery wreck after motorcyclist kicks car (VIDEO)
Published time: 23 Jun, 2017 04:52
Edited time: 23 Jun, 2017 08:31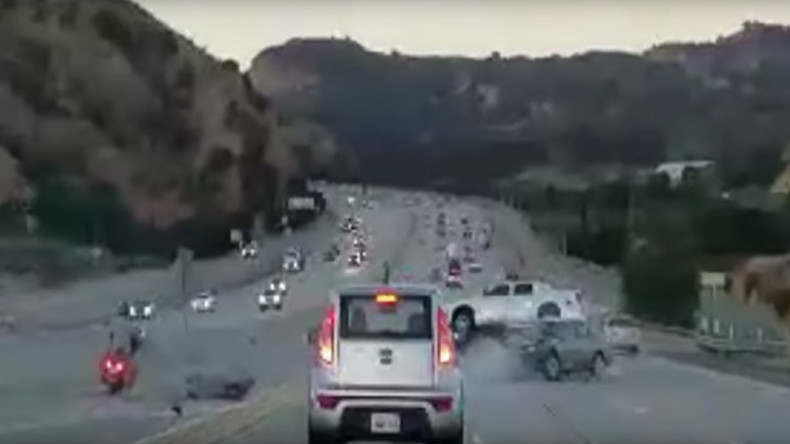 A road rage incident is believed to have sparked a terrifying multiple crash crash on a freeway in Santa Clarita, north of Los Angeles involving a motorcycle, a car and an SUV.
The shocking camera footage shows two people involved in road rage encounter which ends in an incendiary mess on the California State Route 14, southbound.
It all started when a motorcyclist kicked the side of a sedan. The sedan retaliated and swerved into the man on the motorbike and accidentally hit the divider. The sedan then hit a Chevy pick-up truck and flipped it onto its roof, according to KNBC.
The motorcyclist then took off down the road and is being sought by police.The man in the truck is in hospital and is expected to recover, according to the California Highway Patrol.
The incident happened at about 5:45am, authorities said, according to the LA Times.
"Obviously it was a road rage incident," CHP officer Josh Greengard told KNBC. "He was kicking the vehicle. We need to get the motorcyclist's side of the story to see what led up to this incident. We're not sure what happened farther back."
Greengard added, "It looked like a pretty violent video… this could've been a horrible tragedy."
A witnesses passed the footage to the CHP saying, "the old man who had nothing to do with it is the one who got hurt. Hopefully by doing this, it can help him out," KNBC reported.
The man who was injured in the truck is a retired 75-year-old, according to KCAL.
The SR14 freeway southbound lanes were reportedly reopened at 6:33am, according to KNBC.