'Still had my seatbelt on': Police dashcam shows cop assaulting driver (VIDEO)
Published time: 23 Jun, 2017 04:25
Edited time: 23 Jun, 2017 09:48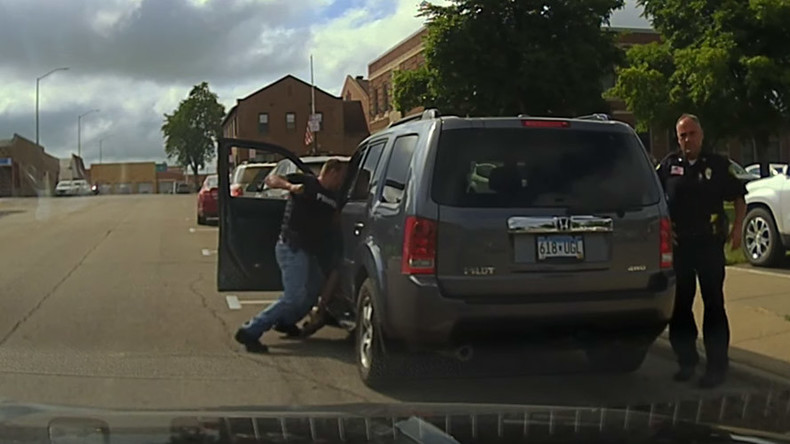 Harrowing footage of a drug task force officer drawing his gun and viciously attacking a motorist has been released by the ACLU of Minnesota.
In the video, the plainclothes officer charges toward the car shouting profanities and then punches and knees the driver several times as a uniformed officer watches on.
The American Civil Liberties Union of Minnesota is speaking with the counsel of the motorist, Worthington resident Anthony Promvongsa, 22, in connection with the July 2016 police assault.
In the video released Thursday, an officer with the Buffalo Ridge Drug Task Force, Joe Joswiak, and a Worthington police officer instructs Promvongsa to pull his car over.
Promvongsa still had his seat belt fastened when Joswiak opens the door and proceeds to punch, pull and elbow the driver, according to the ACLU.
"I had no idea what was going on when I was approached and attacked by this officer," Promvongsa said in a statement published by the ACLU.
"I did not even have the opportunity to take off my seatbelt before I was literally blindsided with this unnecessary attack."
Promvongsa was taken to hospital for evaluation and released the same day, according to the Star Tribune.
"The video, viewed in a vacuum, shows only a short segment of the incident that is the basis of criminal charges," said Worthington Police Chief Troy Appel and Cmdr. Nate Grimmius responding in a joint statement.
In a criminal complaint obtained by the Tribune, Promvongsa is being charged with assault with a dangerous weapon, fleeing police in a vehicle, marijuana possession and driving after his license was revoked.
Promvongsa is further named as the provocateur in a road rage incident with a police officer, which took place on July 28 at 9:30am.
"Agent Joswiak's use of force against Anthony Promvongsa is disturbing and completely unnecessary," Teresa Nelson, Legal Director of the ACLU Minnesota said.
"We are calling for an investigation of agent Joswiak's behavior, and for him to be held accountable for his brutal attack... up to, and including, termination and prosecution," she added.