Negative ad airs in most expensive US House race ever, seen as 'Trump referendum'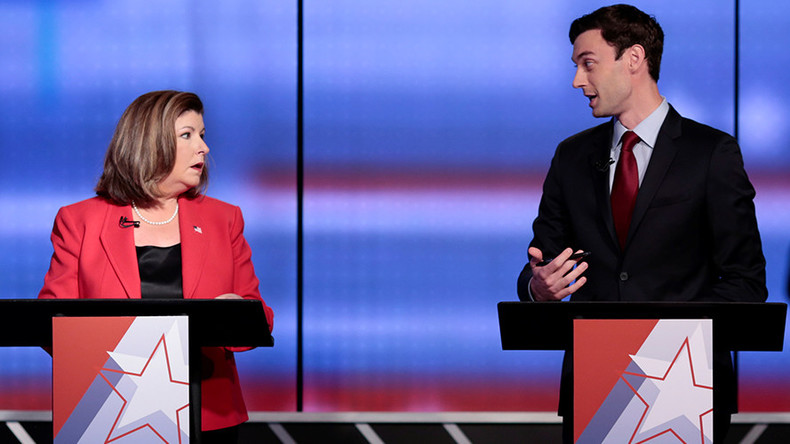 A surprisingly close race to fill a US House seat in Georgia has the candidates burning the midnight oil. Tens of millions of dollars have fueled the fierce special election campaigns, making this the priciest congressional run in history.
Voters in Georgia's 6th congressional district, which encompasses the suburbs north of Atlanta, take to the polls Tuesday in a special election to fill a vacant US House seat. It had been held by Republican Tom Price, who resigned upon being appointed by President Donald Trump to be the US health and human services secretary this year.
The candidates, Democrat Jon Ossoff and Republican Karen Handel, finished in the top two spots in a previous special election where none of the four Democrats, 11 Republicans or two Independents won 50 percent. Ossoff nearly won, however, with 48.6 percent in the April election.
Read more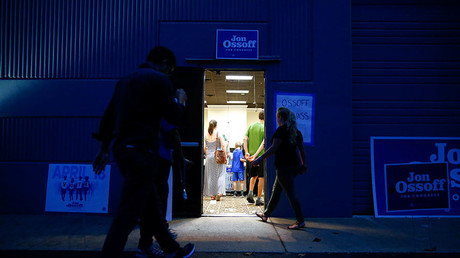 The district has been controlled by Republicans since 1979, but the run-off election is neck-and-neck. Republicans and Democrats both see the special election as an indicator of where Trump's administration stands and where it may be heading in the future.
Ossoff, 30, a political newcomer, originally drew national attention to his campaign with the anti-Trump slogan, "Make Trump Furious." Ossoff and his supporters hope to "flip the 6th," which they would see as a changing tide in the Democrats' favor.
"Democrats know the importance of flipping a historically red district, so their thought process is: 'If they can flip Georgia 6, they can flip anything,'" said Ryan Bakker, an associate professor of political science at the University of Georgia, according to the Center for Responsive Politics, a campaign finance watchdog in Washington, DC. Bakker added that winning the district would give Democrats a boost in the 2018 elections.
Handel, 55, who was Georgia's secretary of state from 2007 to 2010, has depicted herself as an experienced politician with 25 years of helping her district. Several leaders of the Republican Party have thrown their support behind Handel, including House Speaker Paul Ryan, Georgia Governor Nathan Deal and President Trump.
On Monday, Trump tweeted about the special election several times, saying Ossoff "wants to raise taxes and kill health care" and Democrats want to "stop tax cuts, good healthcare and Border Security" and "raise taxes big!" The president urged Republicans to "Vote 'R'" on Tuesday.
The Dems want to stop tax cuts, good healthcare and Border Security.Their ObamaCare is dead with 100% increases in P's. Vote now for Karen H

— Donald J. Trump (@realDonaldTrump) June 19, 2017
....because he doesn't even live there! He wants to raise taxes and kill healthcare. On Tuesday, #VoteKarenHandel.

— Donald J. Trump (@realDonaldTrump) June 19, 2017
Big day tomorrow in Georgia and South Carolina. ObamaCare is dead. Dems want to raise taxes big! They can only obstruct, no ideas. Vote "R"

— Donald J. Trump (@realDonaldTrump) June 20, 2017
Trump won the district by 1.5 points in the November election, but his approval ratings in the area have since dwindled, giving Democrats hope that they can flip the district.
On Friday, a WSB poll of 800 likely voters found Ossoff leading Handel 49.7 percent to 48 percent.
The poll also shows 91 percent of Ossoff voters have an unfavorable opinion of Trump, while 78 percent of Handel voters have a favorable opinion.
Both parties have spent more than $56 million on the special election, making it the most expensive congressional race in US history, easily surpassing the 2012 election in Florida's 18th, which cost $29.5 million, according to the Center for Responsive Politics.
Both candidates have attacked one another during the campaign, but have come together to condemn an ad from a little-known group called the Principled PAC. The ad connects Ossoff to the recent shooting of Rep. Steve Scalise (R-Louisiana) and claims that the "unhinged left is endorsing and applauding shooting Republicans."
"When will it stop?" a narrator asks over images of Scalise being wheeled away on a stretcher and the sounds of gunshots. "It won't if Jon Ossoff wins on Tuesday, because the same unhinged leftists cheering last week's shooting are all backing Jon Ossoff. And if he wins, they win."
A spokeswoman for Handel condemned the ad, saying it was "disturbing and disgusting," according to a statement obtained by the Atlanta Journal-Constitution. However, the Journal notes that Handel did not ask for the ad to be removed.
"The man is fighting for his life," Ossoff said, according to the Journal. "I think it's disgraceful to politicize it, and I think Secretary Handel should call for it to come down."