'Get back! Get back!': Police releases audio after killing a pregnant woman
Published time: 19 Jun, 2017 20:25
Edited time: 20 Jun, 2017 08:17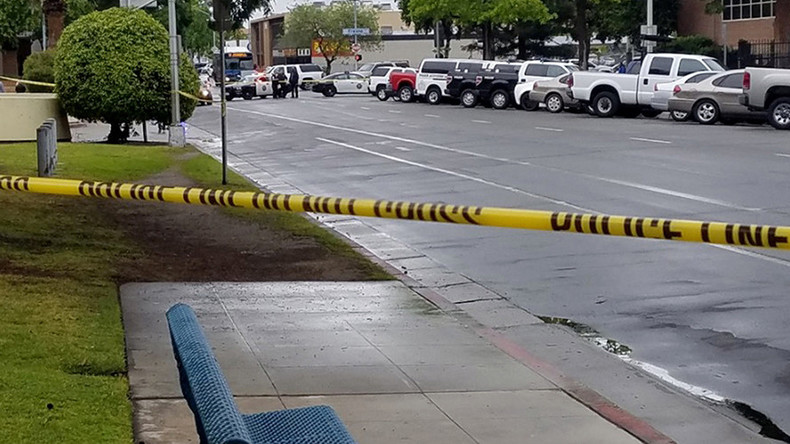 The Seattle Police Department has released audio of the fatal shooting of an expectant 30-year-old African-American mother. Police were responding to a burglary call and claimed the woman brandished a knife before officers shot and killed her.
The audio from the Sunday morning encounter is redacted in several places, but includes two unidentified officers speaking about Charleena Lyles' mental health and previous calls to the police before they confronted her.
"Hello, good morning," one of the officers said in the audio. "You call the police?"
The audio is linked to the dash-cam of the patrol cars of both responding officers, police said.
The officer continued to speak to Lyles, who said she left her apartment unlocked when she went out to the store. A child is heard in the background. Police then asks her if she knew who it might have been, and they ask for her name. There is then a break in the recording.
Shortly after, the situation escalates and an officer is heard stating "We need help."

"Hey! Get back! Get back!" an officer shouts before gunfire erupts.
Police said several children were in the apartment at the time of the shooting and were unhurt. The children were identified by family as two boys and a girl, ages 11, 4 and 1.
In a statement released with the audio, police noted that both officers were equipped with "less lethal force options."
Police Detective Mark Jamieson told the Seattle Times officers were alerted to "hazard information" in the system after a previous encounter with Lyles.
In an early part of the tape, officers are heard discussing previous calls to Lyles' apartment, including one for domestic violence which involved Lyles holding a scissors.
Family members said Lyles was several months pregnant and had been struggling with mental-health issues for the past year. They said she was concerned that authorities would take her children, one of whom they said has Down syndrome.
Relatives wondered why police shot her instead of Tasering her.
"Why couldn't they have Tased her? They could have taken her down. I could have taken her down," said Monika Williams, Lyles' sister told the Seattle Times.
She was "tiny," she said, and believe her race – she is African-American – was a factor.
The apartment complex is home to formerly homeless people where 400 people live in apartments comprising two, three and four bedrooms.
The SPD has confirmed that both officers were white, one, an 11-year veteran of the force and the other described as "newer to the department."
Seattle Mayor Ed Murray, in a statement Sunday afternoon, called the incident "a tragedy for all involved."
"My thoughts are with the many people impacted, including three children and the responding officers," he said.
The shootings are being reviewed and King's County Prosecutor's Office will also review the incident and likely call for a coroner's inquest.
The Seattle Times reported dozens of people attended a vigil Sunday night for Lyles demanding answers for how officers ended up killing the woman who had called police for help.
The Seattle Police Department has been under a federal consent decree since 2012, after a Department of Justice investigation found its officers routinely engaged in excessive use of force, most often against people with mental or substance abuse problems.
Federal investigators also found evidence of biased policing.
Recently, a federal court-appointed monitor found encouraging signs that the department had made significant progress in its reform programs.