Don't believe anonymous officials, DOJ tells Americans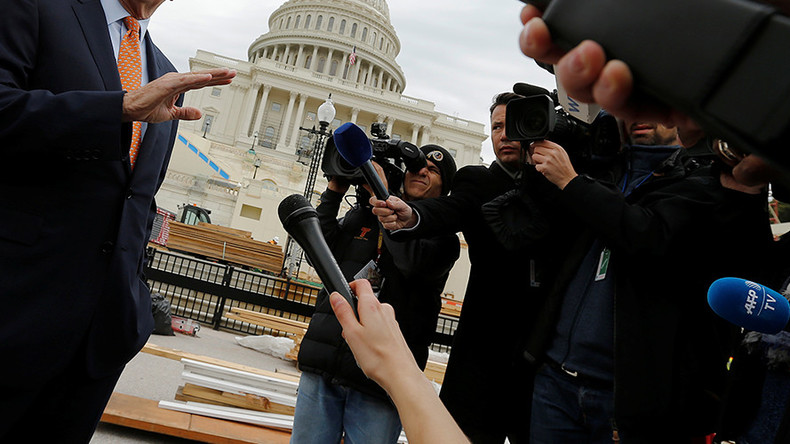 The Department of Justice has warned the American public not to take at face value anything attributed to anonymous government officials, just before another such report got Washington speculating about an investigation of President Donald Trump's son-in-law.
"Americans should exercise caution before accepting as true any stories attributed to anonymous 'officials,' particularly when they do not identify the country – let alone the branch or agency of government – with which the alleged sources supposedly are affiliated," Deputy Attorney General Rod Rosenstein said in a statement Thursday evening. "Americans should be skeptical about anonymous allegations. The Department of Justice has a long-established policy to neither confirm nor deny such allegations."
Shortly after Rosenstein's statement, the Washington Post published a story claiming that Ivanka Trump's husband Jared Kushner – who plays multiple advisory roles in the Trump White House – is being investigated as part of special counsel Robert Mueller's probe into alleged Russian election interference.
READ MORE: Facts force Washington Post to backtrack on report that Russia hacked US power grid
The story cited "US officials familiar with the matter" as the source. The Post has run a series of sensationalist stories about the Trump administration since January, usually attributed to "current and former US officials."
Rosenstein's statement is unusual, because previous US administrations have frequently relied on officials speaking to the media on condition of anonymity in order to shape public opinion and float government proposals before they were officially announced.
Relations between the current administration and many mainstream news outlets have been downright hostile, however, with Trump accusing "killer networks" of spreading "fake news" about him.
On Friday morning, Rosenstein privately admitted he may have to recuse himself from the DOJ's Russia investigation, ABC News reported... citing "sources."
He reportedly told Associate Attorney General Rachel Brand, the third-in-command at the Justice Department, that if he were to recuse himself, she would have to step in to make final decisions about resources, personnel and any potential prosecutions, the sources told ABC News. Brand was sworn in to her post last month.
Rosenstein took charge of the probe after Attorney General Jeff Sessions recused himself from involvement in investigations into the Trump campaign in early March, as he helped get the president elected. The deputy attorney general appointed Mueller as special counsel in mid-May, after Rosenstein and Sessions advised Trump to fire FBI Director James Comey for his handling of the investigation into Hillary Clinton's use of a private email server while she was secretary of state. Trump later told NBC News that he fired Comey over"this Russia thing."
During testimony in front of the Senate Appropriations Committee on Tuesday, Rosenstein told the panel that he is aware he may become a potential witness in the expanding Russia investigation.
"I understand there are serious allegations that have been raised," he said. "I recognize the importance of these questions, and I think that Director Mueller ought to review that and make a determination of whether or not he believes it is within the scope of his investigation."
Reports surfaced on Wednesday that Mueller had expanded the scope of his investigation into whether Trump obstructed justice in his interactions with Comey, as well as in firing him. Trump has repeatedly complained in tweets that he is the target of a "witch hunt."