Blimp crashes at US Open, injuring pilot (PHOTOS, VIDEOS)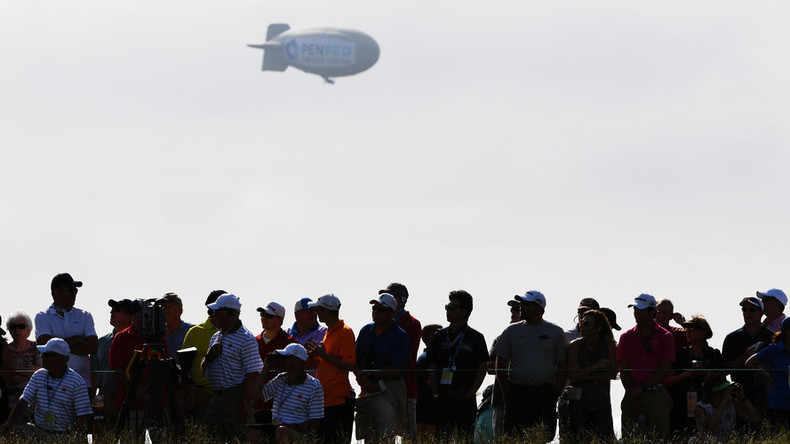 A blimp deflated above thousands of spectators at the US Open before crashing into a ball of flames and injuring the pilot in the process.
The pilot was airlifted from the scene and taken to a regional hospital where "is expected to be ok," according to Airsign, the advertising firm operating the blimp.
Thanks to everyone for your concerns, the blimp pilot is being taken to the hospital but is expected to be ok. No details on cause of crash

— AirSign (@AirSign) June 15, 2017
A blimp unaffiliated with the #USOpen or @FOXSports has crashed near Erin Hills. Pilot was injured and first responders are on the scene.

— U.S. Open (USGA) (@usopengolf) June 15, 2017
The President of Airsign told reporters the pilot rode the blimp to the ground and managed to get to safety before it erupted into a ball of flames.
Several bystanders at the Erin Hills golf course posted footage of the falling blimp to Twitter.
Helicopter footage above the crash site showed the burning remains of the small blimp as well as the first responders on the scene. Eyewitnesses reported seeing multiple fireballs.
While the crash happened away from the golf course, there were reports that smoke from the scene could be seen up to a mile away.
The blimp crash was far from the course but the smoke that rose above the trees afterwards was terrifying.

— Mike Hall (@BTNMikeHall) June 15, 2017
AirSign, whose blimp was not affiliated with the US Open, were tweeting pictures of the golf course just before the crash.
The last tweet the firm shared was a retweet from a US Open viewer who wrote "this is an ominously low blimp wouldn't you say?".
Jesus this blimp at the US Open just crashed in my Grandma's farm field (this is the only picture I got 2 hours before excuse the caption) pic.twitter.com/1yQuRIsRyO

— Alex Grimm (@AlexGrimm4) June 15, 2017