3 victims & gunman dead after shooting at San Francisco UPS building
Published time: 14 Jun, 2017 17:14
Edited time: 15 Jun, 2017 09:17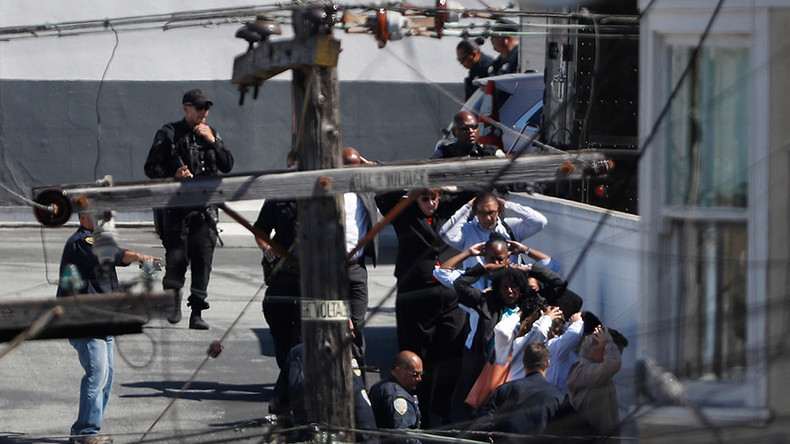 A gunman reportedly dressed in a UPS uniform shot multiple people at the parcel service's building in San Francisco, California, the company has confirmed. Three victims and the shooter are dead, and at least two people were injured.
UPS has confirmed that the gunman, who killed himself, as well as the victims, three dead and two injured, were all employees.
While police have not confirmed the suspect's identity, local media has identified the suspect as Jimmy Lan, based on various sources including UPS employees and police.
Just before 9:00am local time Wednesday, police responded to a call that multiple people were shot, San Francisco Assistant Police Chief Toney Chaplin told reporters. Once on scene, they declared an active shooter situation.
When officers entered the building, they encountered several shooting victims, whom they immediately evacuated for medical treatment. There were six people shot, including the suspect.
When police encountered the shooter in the building, he was holding an "assault pistol," which he turned on himself and committed suicide, Chaplin said. Officers recovered two guns at the scene.
Officers evacuated UPS employees from the building, located on San Bruno Avenue in the Potrero Hill neighborhood. The SFPD declared the building secure around 10:30am local time.
Police are still searching the building for more victims and any witnesses who may have sheltered in place, Chaplin said.
"Investigators are going through painstaking interviews with everyone who was in the building" when the shooting occurred, including any non-employees who may have been present, he added.
Two people were pronounced dead at the scene, while the gunman and the fourth person died at San Francisco General Hospital, KNTV reported. A fifth person walked in to the hospital with a leg wound.
Police do not have a motive, nor do they know if the victims were random or targeted, but they do not believe the shooting was related to terrorism, Chaplin said.
The packaging, sorting and distribution facility has 850 employees, according to UPS. The shooting occurred in an area that is away from where customers pick up and drop off packages.
"The company is saddened and deeply concerned about affected employees, family members and the community we share," UPS said in a statement. "Our thoughts and prayers are with all those touched by this incident."
The Red Cross has set up two unification sites.
The San Francisco shooting comes just hours after five people were injured in Alexandria, Virginia, after a gunman attacked the Republican members of Congress who were practicing for an annual charity baseball game.