Democrats squabble behind closed doors over Trump impeachment plan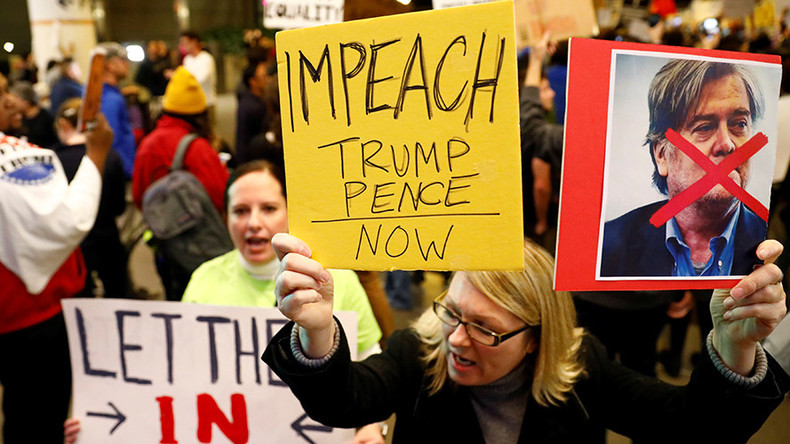 Democrats in Congress almost always unite when it comes to opposing President Donald Trump, but strategy sessions are reportedly blowing up over California Representative Brad Sherman's controversial plan to bring articles of impeachment.
During a weekly meeting of House Democrats, many of Sherman's colleagues protested his decision, according to The Hill. Sherman's articles of impeachment were circulated through the House of Representatives on Monday.
House Minority Leader Nancy Pelosi (D-California) urged her party to steer their energy toward issues such as the economy. Others took issue with other possible consequences of focusing on impeachment.
Representative Michael Capuano (D-Massachusetts) argued that there had to be "a discussion within the caucus, in a public forum, before we do something that would position our colleagues or our future colleagues."
Capuano went on to say that "emotions are high," referring to the recent controversy with Comey's high-profile testimony before members of congress.
Steny Hoyer (D-Maryland) went even further in his objection to Sherman's impeachment plans.
"We believe strongly that a discussion about impeachment is not timely," he said.
Sherman responded to his colleagues' concerns after the meeting.
"I said, I couldn't agree with you more. I'm not doing anything until I consult with colleagues and leadership," the California congressman said, adding, "I think the Republican leadership is entitled a few weeks to decide what to do with this article."
Representative Al Green (D-Texas) stood in solidarity with Sherman, saying, Trump "continues to validate the reasons why he should be impeached."
Green is referring to reported rumors that Trump was considering firing former FBI chief Robert Mueller, the recently appointed special counsel to head the probe into alleged Russian meddling in the 2016 election.
Chair of the House Democratic Caucus Joseph Crowley (New York) said: "There is a need for a family discussion before any issue of this magnitude is brought further."
"It is a courtesy to our colleagues," he added.
Rep. Linda Sanchez (D-California) chimed in to say "any member can introduce any piece of legislation that they want. We are a big tent party." She added: "But again, I believe that I speak on behalf of the leadership and probably the majority of the caucus when I say that people are waiting to see where the investigation leads."
Last week Comey spoke out about a meeting with Trump where he accused the president of lying about what happened during one of their previous encounters.
There is a belief among top Democrats that there has not been sufficient evidence presented yet to take such drastic measures as to try and impeach Trump. According to Politico, 71 percent of Democratic voters support impeachment proceedings against the president.
You can share this story on social media: