N. Korea threatens to strike New York in response to 5-month-old Trump tweet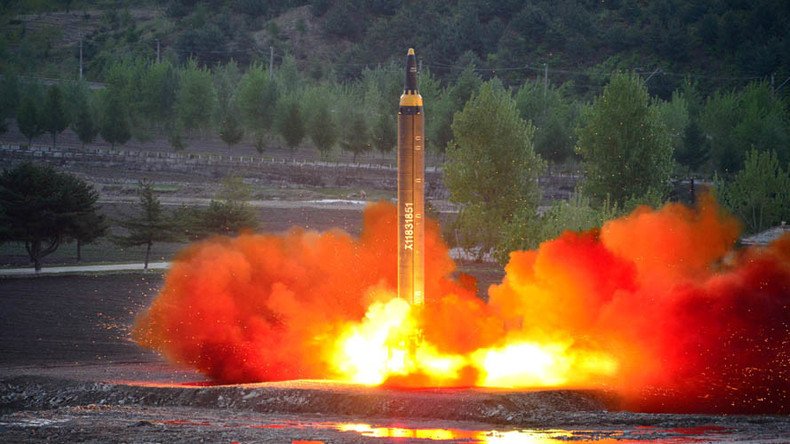 Pyongyang says its nuclear weapons can hit New York, and that such a strike "might be proven in practice." It's a much-delayed response to a January tweet from Donald Trump, in which he said that a North Korean strike on the US "won't happen."
"The DPRK is about 10,400km far away from New York. But this is just not a long distance for its strike today," an opinion piece in the state-run Rodong Sinmun stated on Monday.
The article, titled 'US hostile policy is bound to go bankrupt', goes on to state that "the US is feeling uneasy as this might be proven in practice."
READ MORE: US missile interceptor system won't stop N. Korean 'shower of nuclear strike' – KCNA
"This is because its hostile policy will end in futile when the DPRK conducts the test-fire of an ICBM capable of precisely striking any place on the US mainland."
The article also addresses a January tweet by US President Donald Trump, in which he acknowledged Pyongyang's announcement that it was in the "final stages" of developing a nuclear weapon striking parts of the US, but said that such a strike "won't happen."
North Korea just stated that it is in the final stages of developing a nuclear weapon capable of reaching parts of the U.S. It won't happen!

— Donald J. Trump (@realDonaldTrump) January 2, 2017
"Trump blustered early this year that the DPRK's final access to a nuclear weapon that can reach the US mainland will never happen," the Monday editorial states.
"But the strategic weapons tests conducted by the DPRK clearly proved that the time of its ICBM test is not a long way off at all."
The editorial comes amid heightened tensions between Washington and Pyongyang, with Trump repeatedly vowing to put an end to North Korea's nuclear and ballistic missile programs. He has also urged China to put pressure on Pyongyang, as its sole economic lifeline.
However, while Trump expressed extreme skepticism at Pyongyang's capabilities in January, the director of the US Missile Defense Agency (MDA) told the House Armed Services Committee earlier this month that "it is incumbent on us to assume that North Korea today can range the United States with an ICBM carrying a nuclear warhead."
Meanwhile, North Korea has ignored all calls to halt its programs, and has continued to test the patience of Washington and its Asian neighbors.
A Saturday editorial in Rodong Sinmun stated that the test-firing of an intercontinental ballistic missile was not far away.
"The series of recent strategic weapons tests show that we are not too far away from test-firing an intercontinental ballistic missile," the article stated.
Last week, the North fired what appeared to be several short-range anti-ship cruise missiles from its east coast, according to the South Korean military. It marked the fifth missile test-fire by Pyongyang since the South's liberal President Moon Jae-in took office in May.
In late May, Pyongyang launched a short-range ballistic missile which landed in the Sea of Japan (also known as the East Sea), about 300km off the Japanese coast.
Earlier that month, Pyongyang said it had successfully tested the Pukguksong-2 intermediate range ballistic missile, after a projectile was detected landing in international waters off Japan's east coast.
READ MORE: US calls North Korea 'clear & present' threat, urges China to deal with Pyongyang
Prior to that, North Korea claimed it had successfully tested a Hwasong-12 intermediate-range ballistic missile.
Those tests were part of dozens of missile launches by Pyongyang since the beginning of last year. The North also tested two nuclear bombs within the same period.
Responding to Pyongyang's development of ballistic missiles and nuclear weapons, the US and Seoul agreed to deploy the Terminal High Altitude Area Defense (THAAD) missile defense system to South Korea last year – a move which triggered outrage from both Pyongyang and Beijing.
However, both Washington and Seoul say THAAD is aimed solely at defending against North Korea, and poses no threat to China.
You can share this story on social media: