US calls North Korea 'clear & present' threat, urges China to deal with Pyongyang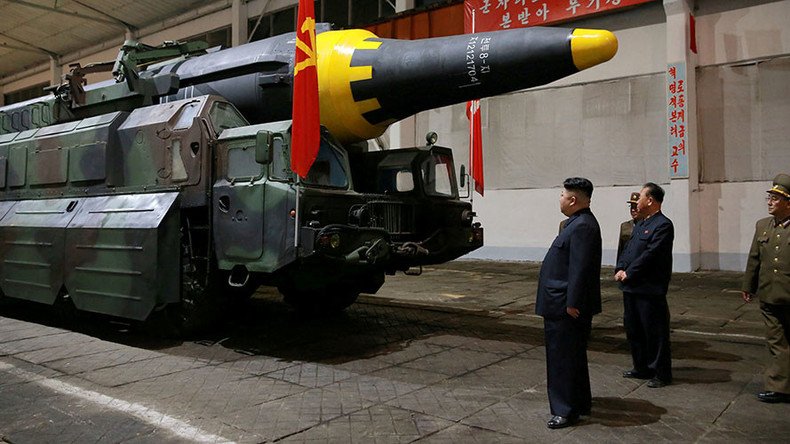 The US defense secretary has called North Korea a "clear and present" threat, urging China to recognize Pyongyang as a "strategic liability." The statement comes after the UN extended sanctions against North Korea over its repeated missile tests.
North Korea poses a "clear and present danger" to the US, Defense Secretary Jim Mattis said at the Shangri-La Dialogue, Asia's premier defense summit, in Singapore on Friday.
"The current North Korean program signals a clear intent to acquire nuclear-armed ballistic missiles, including those of intercontinental range, that pose direct and immediate threats to our regional allies, partners and all the world," Mattis said, adding that Pyongyang's actions "are manifestly illegal under international law."
US once again called on China to deal with its aggressive neighbor.
"The Trump administration is encouraged by China's renewed commitment to work with the international community toward denuclearization," Mattis said, as cited by Reuters. "Ultimately, we believe China will come to recognize North Korea as a strategic liability, not an asset."
Mattis added that the US is "working with China on North Korea because that is also a problem for China."
"China's declared policy of a denuclearized Korean Peninsula is our policy as well, and also that of Japan and the Republic of Korea [South Korea]," he added.
Tensions are running extremely high on the Korean Peninsula. In late May, North Korea launched a short-range ballistic missile which landed in the Sea of Japan, about 300km off the Japanese coast.
Also in May, Pyongyang announced that it had successfully tested the Pukguksong-2 intermediate range ballistic missile after a projectile was detected landing in international waters off Japan's east coast.
Trump has repeatedly called upon China to put pressure on North Korea. Beijing, however, has its own concerns with Washington's decision to deploy the Terminal High Altitude Area Defense (THAAD) system in South Korea. On Thursday, Chinese-state media said the country is "gravely concerned" over reports about the new THAAD launchers, adding that the measure "will severely damage China's security interests and undermine the regional strategic balance."
READ MORE: China: No one has right to bring war & chaos to Korean Peninsula
UN blacklists more North Korean groups, individuals over missile tests
The UN Security Council has extended its sanctions against North Korea with a resolution that adds more individuals and groups to the list.
"Today's resolution contains one annex with the list of the 14 individuals who are now subject to travel ban and asset freeze and a second annex with the list of the four entities subject to asset freeze," Friday's statement says.
The Council condemned Pyongyang's nuclear weapons and ballistic missile development activities "in the strongest terms."
"Unanimously adopting a resolution, the 15-member body also reaffirmed its decisions that the north-east Asian country should abandon all nuclear weapons and existing nuclear programs in a complete, verifiable and irreversible manner, and immediately cease all related activities," the statement adds.
Russia supports the UN resolution on North Korea, Vladimir Safronkov, Russia's deputy ambassador to the United Nations, said in a statement. However, he reiterated Russia's concerns about the placement of US missiles in the region.
"Missile launches, especially those carried out without prior notice, are unacceptable. They pose a threat not only to transport security in the region, but also to the lives of people," he said.
Pyongyang's missile tests should not, however, be a reason for boosting military activity on the peninsula by "some regional and especially extra-regional states," Safronkov added.
"If we only use the language of ultimatums with each other, we won't make progress. The situation on the Korean Peninsula… requires the start of joint collective work as soon as possible."
You can share this story on social media: