US launches airstrike against al-Shabaab in Somalia using enhanced powers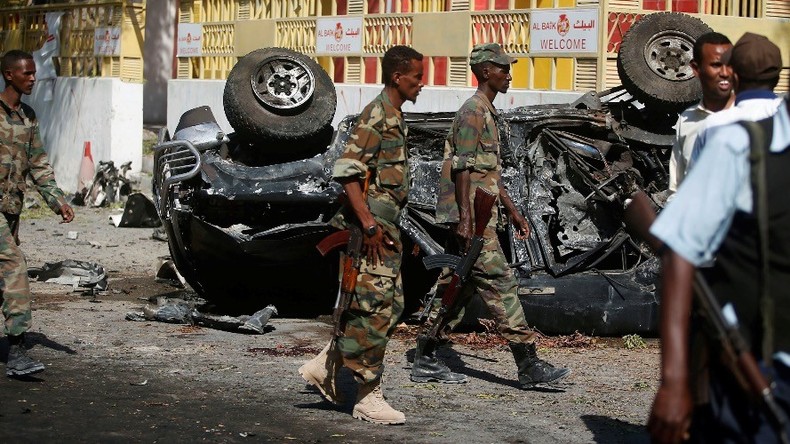 US and Somali forces have conducted a joint operation against the Islamist group al-Shabaab, destroying a major training camp and command outpost days after a deadly attack on a military base in northern Somalia.
The compound was located near Sakow, in the Middle Juba region in southern Somalia where al-Shabaab is known to operate.
"On June 11, at approximately 2 a.m. Eastern Daylight Time, the Department of Defense conducted a strike operation against al-Shabaab in Somalia," Pentagon spokeswoman Dana White said in a statement on Sunday. "The operation occurred approximately 185 miles southwest of Mogadishu. The US conducted this operation in coordination with its regional partners as a direct response to al-Shabaab actions, including recent attacks on Somali forces."
Eight militants are said to have been killed in the strike, which was carried out by a drone, an American official told Reuters.
The joint operation was carried out under new powers authorized to the Pentagon by President Donald Trump in March. It designates parts of Somalia as an "Area of Active Hostility," giving the military more power to strike targets they believe to be linked to al-Shabaab.
The US military is also mandated to work with AMISOM (African Union Mission in Somalia) and local Somali forces which helped carry out the raid.
"Earlier today, I authorized our special forces with the support of our international partners to conduct a strike against an al-Shabaab training camp near Sakow," read a statement from Somali President Mohamed Abdullahi.
"This was a successful strike that destroyed a key al-Shabaab command and supply hub. This will ultimately disrupt the enemy's ability to conduct new attacks within Somalia."
On Thursday al-Shabaab attacked a military base in Puntland, northern Somalia, killing 59 people.
The Al-Qaeda affiliated group is fighting to overthrow the Somali government and establish Islamic law. After suffering a series of defeats, it was forced out of Mogadishu in 2011 but still controls vast amounts of territory in the south and center of the country.
The US has been conducting military operations and drone strikes against al-Shabaab since 2007. In May, Navy SEAL, Kyle Milliken, 38, was killed during a joint operation with Somali forces against al-Shabaab. His death was the first US casualty in the country since the disastrous Battle of Mogadishu in 1993, where 24 American soldiers lost their lives.