US soldier killed, 2 injured in Somalia gun attack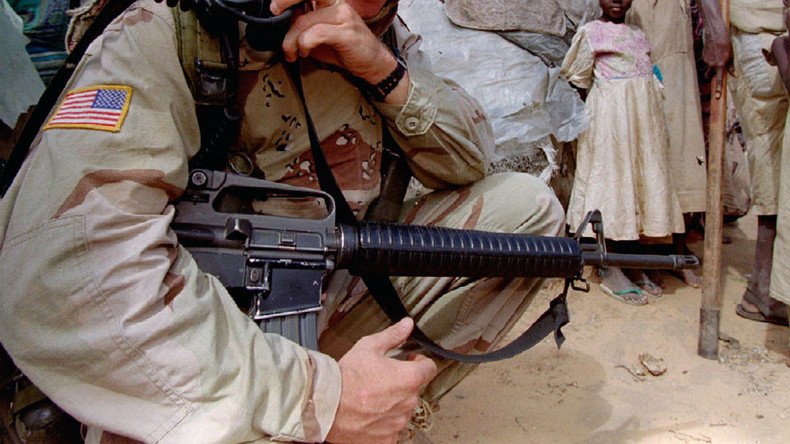 A US service member was killed in Somalia during a firearms attack. Two others were injured in the same incident. It was the first American combat death in Somalia since the early 1990s.
"We do not believe there has been a case where a US service member has been killed in combat action in Somalia since the incident there in 1993," US Africa Command (AFRICOM) spokesman Patrick Barnes said Friday, referring to the 1993 "Black Hawk Down" incident in Mogadishu.
The troops in question were part of the US 'advise and assist' mission to the Somali government, which is fighting against militant group Al-Shabaab, AFRICOM reported on Friday. The casualties came during the "early phase" of the Somali-led operation against an Al-Shabaab compound.
The attackers were "quickly neutralized," the Pentagon said.
The incident happened on Thursday near Barii, a town some 60km west of the capital, Mogadishu, the report said.
The command said the mission in Somalia is crucial due to Al-Shabaab's ties with Al-Qaeda and is aimed at degrading the group's ability to "recruit, train and plot external terrorist attacks."
The two injured troops "are both receiving proper medical attention," Robyn Mack, a spokeswoman at the command told Reuters, refraining from providing details about their condition.
READ MORE: US army makes largest deployment of troops to Somalia since 'Black Hawk Down'
AP cited a Somali intelligence official as saying that the operation involved a helicopter raid on a suspected al-Shabaab hideout near Dare Salaam village. The troops attempted to capture or kill the fighters in the area, but were met with stiff resistance, according to the anonymous source.
You can share this story on social media: