Texas deputy, husband charged with murder in chokehold death of Latino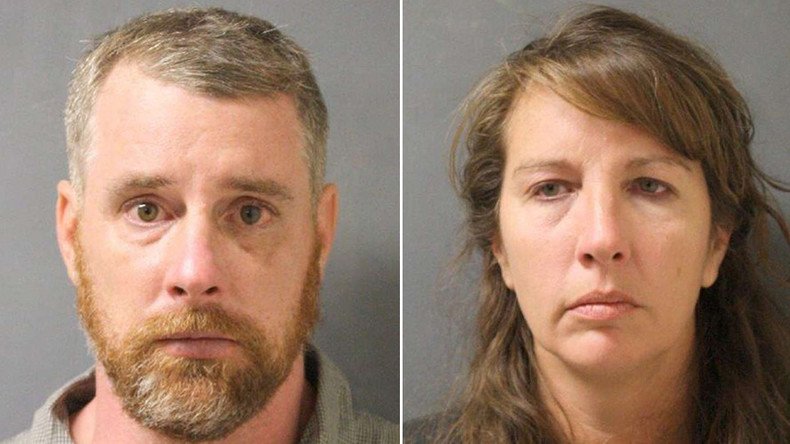 A sheriff's deputy and her husband are out on $100,000 bail after being charged with first degree murder in the chokehold death of John Hernandez outside a restaurant in the Houston-area, Texas.
The Harris County sheriff deputy, Chauna Thompson, who was off-duty at the time, was charged as an accomplice with her husband Terry Thompson who is accused of choking Hernandez, 24, to death as he pinned him to the ground.
The deadly confrontation started on May 28 outside Denny's restaurant in Sheldon, 17 miles northeast of Houston. Police said Hernandez had been drinking and was urinating outside the restaurant when Terry Thompson approached him. A verbal confrontation turned physical.
READ MORE: Man's death ruled homicide after chokehold by Texas deputy's husband (GRAPHIC VIDEO)
Cellphone video shows part of the confrontation between Hernandez and Thompson. Hernandez is seen face down on the ground, kicking and struggling to get Thompson off him. Thompson had his arm locked around Hernandez's neck and used his chest to pin the younger man to the ground.
Chauna Thompson is seen helping her husband by pinning Hernandez's arm. On her knees she yells at Hernandez to "stay the f- down."
A Denny's employee, Melissa Trammell, said she begged Terry to let the man go. She told reporters before testifying that Hernandez "was kicking for his life, struggling. At first I thought it was legitimate."
She added that Thompson "was just going to hold him down, whatever. When I see the man turning purple, there was no letup. And [Thompson] looked me in the face and told me he's not getting off him."
The video of #JohnHernandez is awful. Can't believe what I saw and heard. He didn't need to die. The man who killed him needs to be in jail.

— Nick Russo (@Kingnickrusso) June 5, 2017
Harris County Sheriff Ed Gonzalez said Chauna noticed the man had stopped resisting and that is when she and her husband stopped restraining him.
Gonzalez said it was then they noticed he wasn't breathing. Chauna attempted to perform CPR as paramedics arrived, according to the Houston Chronicle.
The young man was rushed to hospital where he slipped into a coma and died three days later.
Hernandez's death was ruled a homicide and was caused by a lack of oxygen to the brain caused by strangulation and chest compression, according to the Harris County medical examiner on Tuesday.
Chauna was placed on administrative leave and was cooperating with investigators.
The indictments, handed down late Thursday, came a day after more than 150 protesters marched across downtown Houston proclaiming "Justice for John Hernandez" and "Brown Lives Matter."
The march was the culmination of a week of unrest after cell phone video of the incident was released.
The Thompsons, who are white, turned themselves in to the authorities Thursday night and were released from jail on $100,000 jail, according to the Associated Press.
Sheriff investigators have not said whether they believe race is a factor in the killing.
Terry's attorney, Scott Courtney, said prosecutors rushed the case without giving the grand jury time to consider all the evidence. Courtney said Terry did not intentionally kill Hernandez.
"I'm extremely disappointed the grand jury chose to indict," he said according to the Houston Chronicle. "I don't believe the evidence shows that."
Hernandez's family members praised the charges as they prepared for a visitation and rosary are set for Friday. A funeral Mass will be held Saturday at St. Dominic Catholic Church in Houston.
You can share this story on social media: