Man's death ruled homicide after chokehold by Texas deputy's husband (GRAPHIC VIDEO)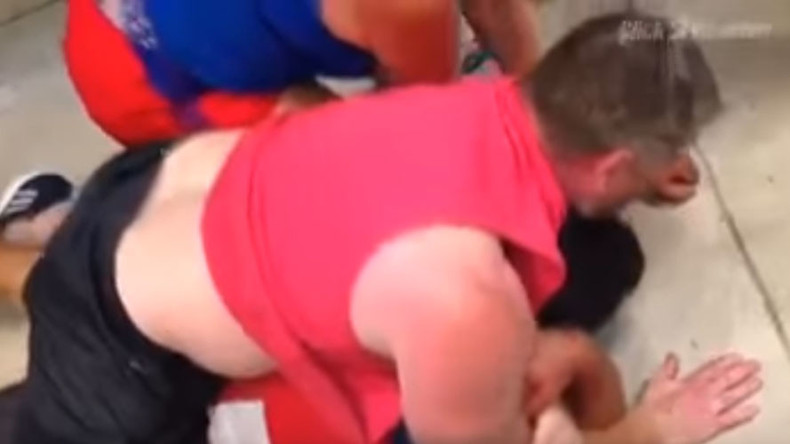 A medical examiner in Texas has ruled a man's death was homicide following an altercation with an off-duty sheriff's deputy and her husband.
Local authorities are asking state and federal departments to help investigate the incident, while the family are demanding an arrest.
John Hernandez, 24, died of lack of oxygen to the brain caused by strangulation and chest compression, according to the Harris County medical examiner, the Houston Chronicle reported.
The office of District Attorney Kim Ogg said in a statement it "has received the evidence the Sheriff's Office has gathered up to this point in the death of John Hernandez. Prosecutors started reviewing that evidence Tuesday evening and will present it to a grand jury of citizens in the near future. Under Texas law, in felony cases, grand jurors determine if a crime has been committed."
Meanwhile, Hernandez's family members and friends gathered in the afternoon to demand the arrest of Deputy Shauna Thompson and her husband, Terry.
"What are you waiting for?" asked Wendy Maldonado, the aunt of the dead victim, according to KTRK. "What more do you need? Kim, Ed, where are you," she asked, in reference to DA Ogg and Harris County Sheriff Ed Gonzalez.
The family and supporters rallied Wednesday to continue to press for an arrest and what they see as justice for Hernandez.
And marched.
Harris County Sheriff's Office said a late-night altercation on May 28 began after Terry Thompson, the husband of Deputy Shauna Thompson, who was off-duty, arrived at a Denny's restaurant in Houston and saw the young man urinating outside. The husband confronted Hernandez about this behavior and a fight began.
Witnesses say Hernandez was quickly overpowered by the man, who continued to beat him then put him in a chokehold for 10 to 15 minutes. They said Hernandez was too drunk to defend himself.
Hernandez's wife and three-year-old daughter begged the man to stop.
"She was crying and telling [the man beating Hernandez] stop and he didn't even stop," Hernandez's wife said, according to KHOU. "I told him, 'Please stop. Don't do that to him. He's drunk.' He wasn't in any position to fight. But he didn't have any compassion. He was really angry."
Shauna Thompson is alleged to have helped her husband restrain Hernandez, and the fight ended when he became motionless.
Hernandez was rushed to hospital but died three days later after he was removed from life-support.
A cell phone video of the incident captured by a bystander was released on Monday by the bystander's lawyer, Jack Carroll, and shows the deputy's husband laying on top of Hernandez, with his arm around his neck as he is gasping for air.
"I was pretty shocked. It's a very sad video. You're watching a man basically being killed," Carroll said, according to KTRC. "He was kicking his legs in a helpless fashion, and you could hear him gargling just begging to stop."
Carroll pointed out that Deputy Thompson appeared to be holding the victim's arm down with her knee.
"She had her right knee on his left shoulder," Carroll said.
The deputy has been placed on administrative leave but no one has been charged in the incident.
Sheriff Gonzalez said he has asked the Texas Rangers and the US Department of Justice to assist in the investigation.
Randall Kallinen, an attorney for Hernandez's family, said authorities should make arrests based on the medical examiner ruling and the bystander-recorded video of the confrontation.
Scot Courtney, an attorney for the Thompsons, said Hernandez was the aggressor.
On Sunday, Hernandez's family and supporters held a vigil at the Denny's restaurant in his memory and to call for justice.
"It's not fair just because he's Mexican nobody helped him. It's because the other guy was married with the [deputy]," said Gilberto Garcia, who attended the vigil.
You can share this story on social media: