Judge rejects Manhattan bomber's bid to dismiss police shootout charges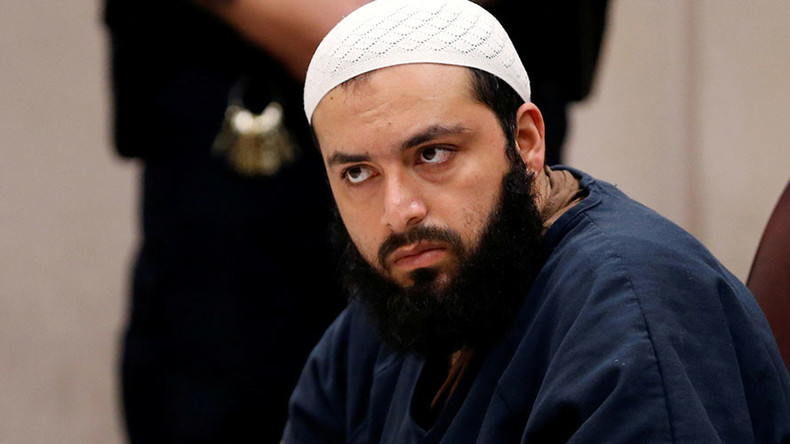 A New Jersey Superior Court judge says a man accused of setting off bombs last year in New Jersey and New York and injuring more than 30 people can be charged with five counts of attempted murder for shooting toward police.
Judge Regina Caulfield on Wednesday ruled there was sufficient evidence to support the charge.
"The defendant repeatedly shot at all the officers pursuing him on East Elizabeth Avenue. The number of times the defendant fired his gun at the officers supports an inference that the defendant intended to kill them," Caulfield wrote in her 32-page decision, according to the New Jersey Star Ledger.
At one point during the shootout, Linden police officer Peter Hammer saw Rahimi reload his handgun, Caulfield's decision revealed.
"Hammer observed defendant squatting between two cars and reloading his weapon," she wrote.
Police testified Rahimi was aiming at them, prosecutors said.
Deputy public defender Peter Liguori had argued there was no evidence Ahmad Rahimi intended to kill police officers moments before his September 19 arrest in Linden, New Jersey.
Rahimi was instead "firing over his shoulder" as he fled, Liguori said, according to AP.
Rahimi, 28, is charged with five counts of attempted murder for the gun battle in which he was wounded and captured. The battle ensued after police had discovered him sleeping in the vestibule of a Linden tavern.
At the time, Rahimi was being sought for allegedly planting bombs in the Chelsea section of New York City, at a military charity in Seaside Park, New Jersey, and in a trash can in Elizabeth, New Jersey on September 17. The bomb that detonated in New York City injured at least 29 people. The seaside bomb also exploded, but nobody was injured. One of the bombs found in Elizabeth exploded as police using a robot tried to disarm the device.
During the gunfight, Linden police officer Angel Padilla, a 14-year veteran, was shot in the mid-section. His bulletproof vest saved him from serious injury, authorities said.
Another bullet went through the window of a police cruiser, and either the bullet or broken glass from the window grazed the head of Hammer, a 12-year veteran, officials said.
The defense attorney also sought to dismiss the attempted murder charges filed for shots that were reportedly fired at three other officers. Judge Caulfield rejected that argument as well.
Liquori has also filed motions seeking to suppress any property authorities seized without a warrant and a motion for a change of venue to move the trial to another courthouse. The defense attorney has requested an individual voir dire, or questioning of each prospective juror.
No trial date has been set in the case.
Rahimi also faces an eight-count federal indictment, accusing him of using weapons of mass destruction in the bombings of New York City and Seaside Park, according to NJ Star Ledger.
The federal court trial has been pushed to October 2.