'Utter depravity': Child murderer sentenced to 70yrs in prison for throwing infant son off bridge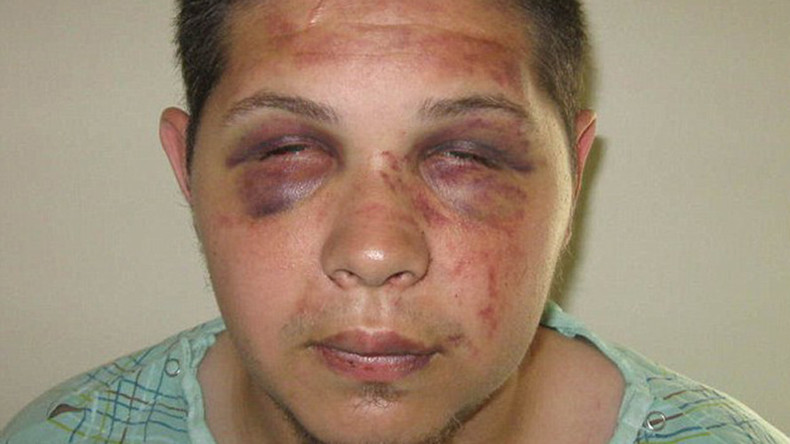 A Connecticut man convicted of throwing his son from a bridge was sentenced to 70 years in prison on Wednesday. Tony Moreno denied killing his 7-month-old son Aaden, claiming he fell from his arms as he pointed out landmarks.
"The utter depravity of the crime — a father killing his infant son — speaks for itself," Judge Elpedio N. Vitale said during the sentencing at the Middletown court, reported the Hartford Courant.
Moreno, 23, will not be eligible for parole as murder is one of five crimes in the state that automatically disqualifies those convicted.
Speaking outside the court, Aaden's mother, Adrianne Oyola, said her son could "rest in peace knowing that justice is served." She added that she "felt bad" for Moreno's mother, Denise. "She done the best she did with her son, it is not her fault."
In July 2015, on a night that Moreno had custody of Aaden, he sent several text messages to Oyola that left her concerned for her son's safety.
"You won't talk to me tomorrow or any other day," and "enjoy your new life without us," were among the messages Moreno sent to Oyala that were read out in the trial and submitted as evidence.
Oyola went to Arrigoni Bridge to find Moreno and her son, who had already been thrown from the bridge. Denise Moreno and a police officer arrived at the scene just as the 23-year-old hurled himself off the bridge.
Moreno was pulled from the water half an hour later, with Aaden's body discovered by a kayaker two days later and 14 miles (22.5 km) downstream in East Haddam.
Defense attorney Norman A. Pattis argued during the trial that Moreno had intended to only kill himself at the bridge. Aaden, he said, was dropped accidentally while Moreno was pointing out landmarks to him.
"Mr. Moreno has never asked to be forgiven. Mr. Moreno knows he is responsible for his son's death. He was willing to plead guilty [to manslaughter]," Pattis said at the sentencing.
Moreno will appeal the 70-year sentence, the maximum penalty for murder in the state.
"Sentences like this in my view reflect the savagery of the criminal justice system," Pattis said. "Judge Vitale has a reputation as a heavy hitter. He lived up to that reputation today."