DARPA & Boeing begin construction of futuristic 'Spaceplane' (VIDEO)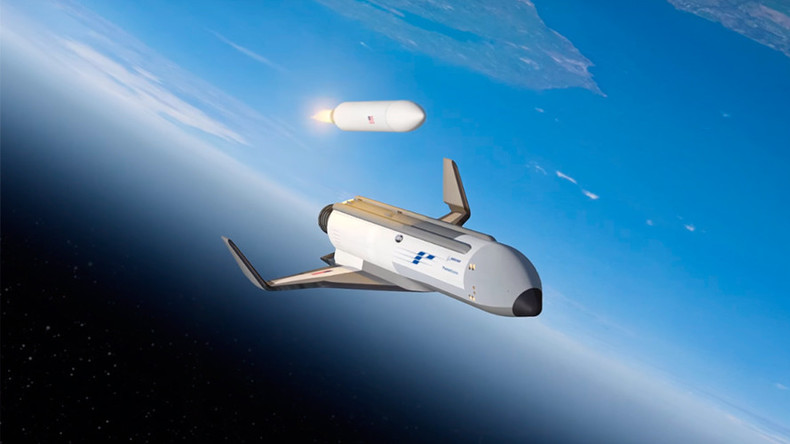 The Pentagon's research and development agency has announced they are one step closer to building an entirely new class of hypersonic aircraft that will allow for cheaper, more reliable, fully automated space travel as early as 2020.
On Wednesday, the Defense Advanced Research Projects Agency (DARPA) announced that Boeing will continue to work with them on the next phase of their Experimental Spaceplane (XS-1) program. The goal of the program is to build an autonomous aircraft that's capable of launching into orbit 10 times over the course of 10 days by 2020.
"The XS-1 would be neither a traditional airplane nor a conventional launch vehicle but rather a combination of the two," Jess Sponable, DARPA program manager, said in a news release.
Roughly the size and weight of a modern business jet, the spaceplane, known as the Phantom Express, will be able to take off vertically like a rocket and fly at hypersonic speeds.
The current design of the Phantom Express does not include external boosters like a modern spaceship. It will be powered by an Aerojet Rocketdyne AR-22 engine using liquid oxygen and liquid hydrogen propellants.
"This engine has a demonstrated track record of solid performance and proven reusability," Eileen Drake, president and CEO of Aerojet Rocketdyne, said in a statement.
Once in space, the Phantom Express will be capable of deploying a small satellite weighing up to 3,000 pounds into low-Earth orbit, according to a news release from Boeing.
On the journey back to Earth, the space plane will land horizontally on a runway, where it can be prepared for the next flight "potentially within hours," according to DARPA.
DARPA says the design of the Phantom Express will bring the cost of a launch down to $5 million, ten times lower than current costs.
Boeing has been working with DARPA and two other companies on phase one of the XS-1 project, which involved the development and concept of the design. Now, only the aerospace company will continue to work with the agency on phases two and three, beginning with the construction phase.
After the construction, DARPA and Boeing plan to conduct 10 launches over a period of 10 days to demonstrate the cost efficiency and reliability of the Phantom Express.
The project is scheduled to begin conducting flight tests in 2020.
"Phantom Express is designed to disrupt and transform the satellite launch process as we know it today, creating a new, on-demand space-launch capability that can be achieved more affordably and with less risk," Darryl Davis, president of Boeing Phantom Works said in a news release.
While DARPA's goal for the project is focused on bolstering "national security by providing short-notice, low-cost access to space," they are also encouraging companies to invest in the spaceflight technology.
The agency says they intend to "release selected data from its Phase 2/3 tests and will provide to all interested commercial entities the relevant specs for potential payloads."
"We're delighted to see this truly futuristic capability coming closer to reality," said Brad Tousley, director of DARPA's Tactical Technology Office (TTO), which oversees XS-1. "Demonstration of aircraft-like, on-demand, and routine access to space is important for meeting critical Defense Department needs and could help open the door to a range of next-generation commercial opportunities."