'Everything on the table': Senate intel panel issues 2 more subpoenas to Flynn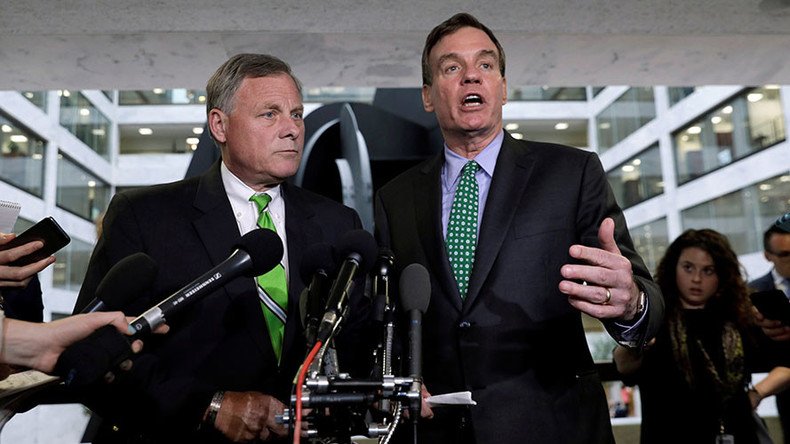 General Michael Flynn has another chance to release subpoenaed documents before possibly being held in contempt of Congress, the Senate Intelligence Committee's leadership said as two new subpoenas were announced.
Following a closed-door intelligence meeting on Tuesday, Committee Chairman Senator Richard Burr (R-North Carolina) and Vice Chairman Senator Mark Warner (D-Virginia) told reporters the committee has issued new subpoenas to compel President Donald Trump's former national security advisor to produce documents as they investigate alleged Russian interference in the 2016 election.
On Monday, Flynn's attorney, Robert Kelner, sent a letter to Burr and Warner, informing them that Flynn was invoking his Fifth Amendment constitutional right against self-incrimination in order to avoid releasing documents
In response, Burr and Warner said the committee has been reviewing a range of options to compel Flynn to release the documents.
First, Warner said the committee is directing the new subpoenas at two of Flynn's businesses because they do not have the right to plead the Fifth.
"While we disagree with General Flynn's lawyer's interpretation of taking the Fifth, it is even more clear that a business does not have a right to take the Fifth if it's a corporation," Warner said.
One subpoena has been served and another is in the process of being served, the senators added.
The committee also sent a letter to Flynn's lawyer on Tuesday, questioning the legal basis for Flynn's refusal to produce the subpoenaed documents. They also addressed Kelner's complaint that the original subpoena was not specific enough.
"We've been very specific in the documents now that we've requested from General Flynn," Burr said.
Burr said all options are on the table if Flynn does not respond to the subpoenas, including the possibility of a contempt charge.
"If in fact there's not a response, we'll seek additional counsel advice on how to proceed forward. At the end of that option is a contempt charge, and I've said that everything is on the table," Burr said. "That is not our preference today. We would like to hear from Gen. Flynn. We'd like to see his documents. We'd like him to tell his story because he publicly said 'I've got a story to tell.' We're allowing him that opportunity to do it."
The only option that is not on the table, Burr said, would be immunity.
"It's a decision that the committee has made that we're not at the appropriate avenue in a potential criminal investigation. As valuable as Gen. Flynn might be to our counterintelligence investigation, we don't believe that it's our place today to offer him immunity from this committee," he added.
The committee issued a subpoena on May 10, requesting Flynn produce detailed information about any meetings he may have had with Russian officials as well as any communications the Trump campaign may have had "in any way related to Russia" during the election.
Responding to the subpoena, Kelner's letter to Burr and Warner claims Flynn was eager to "give a full account of the facts."
However, Kelner said, Flynn would not produce the documents, saying that "even 'truthful responses of an innocent witness' may provide the Government with evidence that could be used against the witness producing documents where the act of production itself is testimonial in nature."
On April 28, the committee initially subpoenaed Flynn for documents relevant to the Committee's investigation into alleged Russian interference in the 2016 election but he refused to release them.
You can share this story on social media: