Mike Flynn offers to testify on Trump campaign ties to Russia in exchange for immunity – reports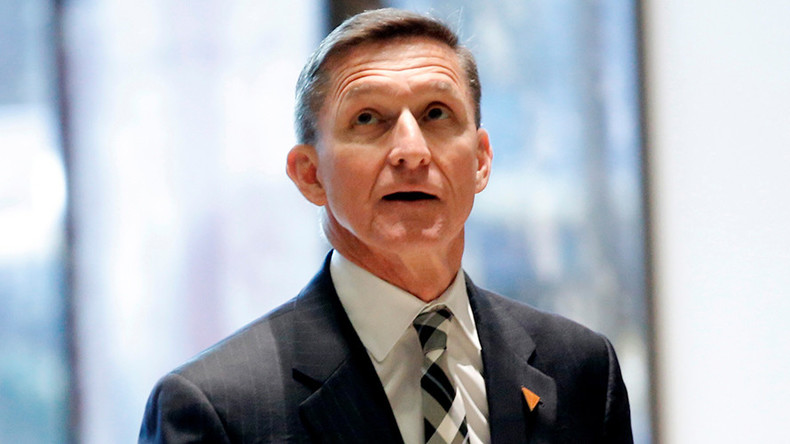 President Trump's former national security adviser told investigators probing into the Trump campaign's potential ties to Russia he will testify in exchange for immunity from prosecution, US media reports, citing officials familiar with the matter.
The news was first reported by the Wall Street Journal, which cited "officials with knowledge of the matter," and later confirmed by Michael Flynn's attorney, Robert Kelner.
"Out of respect for the committees, we will not comment right now on the details of discussions between counsel for General Flynn and the House and Senate intelligence committees, other than to confirm that those discussions have taken place. But it is important to acknowledge the circumstances in which those discussions are occurring.
"General Flynn certainly has a story to tell, and he very much wants to tell it, should the circumstances permit,'' Kelner said in a statement Thursday evening. He did not provide details on the conditions which are being discussed for Flynn to testify, but noted that "no reasonable person, who has the benefit of advice from counsel, would submit to questioning in such a highly politicized, witch-hunt environment without assurances against unfair prosecution."
If granted, an immunity deal would make it impossible for the Justice Department to prosecute Flynn. However, the Wall Street Journal reported that investigators had not agreed to Flynn's conditions yet. There was no official statement on the talks with Flynn from the White House or the FBI on Thursday night.
An adviser to President Donald Trump's presidential campaign and later one of his top aides in the White House, Flynn pushed for closer cooperation between the US and Russia, saying the two have many common interests, including combating terrorism. This friendly stance regarding Russia, however, drew concern from other US officials as well as the media. In mid-February, Flynn was forced to resign from his post over a telephone conversation with the Russian ambassador, Sergey I. Kislyak, in late December.
Citing officials, media outlets speculated in February over the contents and consequences of the phone call, claiming that the main topic of the conversation was the economic sanctions against Russia.
Flynn did not confirm this information, nor were the transcripts of his talks made public. But in his resignation letter he "apologized to the President and the Vice President" for having "inadvertently briefed the Vice President Elect and others with the incomplete information" regarding the phone calls with the Russian Ambassador. Regarding the sanctions, Flynn said that his call "was not to relieve sanctions. It was basically to say, 'Look, we're coming into office in a couple of weeks. Give us some time to take a look at everything.'"
The FBI is now looking into whether Flynn or any other associates of Donald Trump may have coordinated with Russia, which allegedly meddled in last year's presidential election. The Trump administration has repeatedly denied the allegations, while Russia has denied any interference with the election process whatsoever.
Apart from his advocacy of forging closer ties with Russia during Trump's election campaign, Flynn on a number of occasions drew public attention for his attacks against former Secretary of State Hillary Clinton. Interestingly, while currently seeking immunity himself, he once harshly criticized immunity deals offered during the investigation into Hillary Clinton's emails.
"Five people around her have been given immunity," he told Meet the Press host Chuck Todd in September, adding that "when you are given immunity, that means that you probably committed a crime."
You can share this story on social media: