Saudi Arabia 'welcomes' any attire for Trump's wife Melania during US President's 1st foreign trip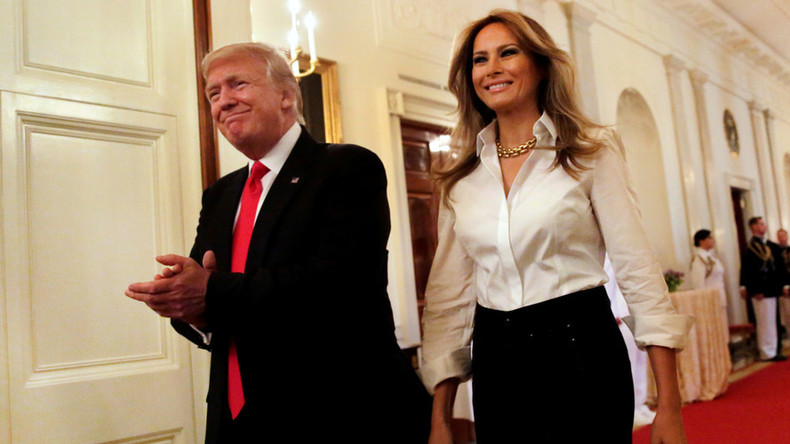 America's first lady has not been "ordered" to dress conservatively in Saudi Arabia, the country chosen by her husband as his first official overseas destination. Along with meetings on the US president's itinerary, there will also reportedly be time for entertainment in the lavish Arab kingdom.
While the choice of the first country to be visited by Trump as America's 45th president has been widely discussed in the media, a question has arisen whether there is a chance to see the US president's wife covered in a traditionally strict Muslim attire.
Women in Saudi Arabia, including foreign visitors, are typically expected to wear a floor length dress – abaya, and a head scarf. However, when asked whether the US first lady would have to dress accordingly, a Saudi Arabia official said Riyadh "usually doesn't demand" a specific dress-code, but rather "accepts suggestions."
"We welcome any style in clothing," Saudi Arabia's Foreign Minister, Adel bin Ahmed Al-Jubeir told the media on Thursday, as cited by RIA Novosti.
READ MORE: 'I hope Melania will wear it!' Pamela Anderson tells RT of Russian-made eco-fur coat for first lady
On Saturday evening, the president and the first lady will join members of the Saudi royal family for an official dinner, US national security advisor H R McMaster revealed earlier this week.
The US official shared some other details about President Trump's first overseas visit with the media at the White House, having dubbed it "a historic trip."
Ahead of the visit, Riyadh has also launched a website for a "brighter future" in several languages, that features a countdown clock.
Trump is set to attend a royal banquet and hold bilateral meetings with the Saudi king, the crown prince and the deputy crown prince, as well as hold "a number of bilateral meetings and broader meetings with all Gulf state leaders" during his two days visit to Saudi Arabia, McMaster said.
"He will meet and have lunch with leaders of more than 50 Muslim countries, where he will deliver an inspiring yet direct speech on the need to confront radical ideology and his hopes for a peaceful vision of Islam to dominate across the world," he told journalists, adding that the speech is "intended to demonstrate America's commitment to our Muslim partners."
Several deals are expected to be inked in Saudi Arabia, spanning all kinds of industries from oil and gas to chemical sectors. The kingdom is also "in the final stage of negotiating a $100 billion arms deal," Reuters reported, citing a White House official.
READ MORE: US to sign major oil deals with Saudi Arabia during Trump visit
Participation in "the inauguration of a new center intended to fight radicalism and promote moderation" is also on Trump's schedule while in Riyadh.
Accompanied not only by his wife, but also by US Secretary of State Rex Tillerson "for most of the trip," the American leader might also expect some "male-only" entertainment, AP reported.
Reporting that "Saudi Arabia is making every effort to dazzle and impress" Trump, the news agency said Riyadh had arranged a male-only concert by American country singer Toby Keith to be performed for the officials in the Saudi capital.
"The president also looks forward to participate in a Twitter forum" in Saudi Arabia, according to his national security advisor. The event might be a real highlight for the global Twitterati, "with young people... able to live tweet [Trump's] remarks to people all over the world."
After his weekend trip to Saudi Arabia, the US president will continue on to Jerusalem, meet with the Israeli prime minister and Palestinian leaders, as well as "say a prayer at the Western Wall," McMaster said. Trump will then meet the Pope at the Vatican, head to the EU headquarters in Brussels, meet with France's new president Macron for the first time, and attend a NATO leaders meeting before traveling to Sicily in Italy for the G7 summit starting on May 26.
You can share this story on social media: