Callista Gingrich, wife of former House speaker, in line to be US ambassador to Vatican – reports
Published time: 16 May, 2017 21:22
Edited time: 18 May, 2017 06:23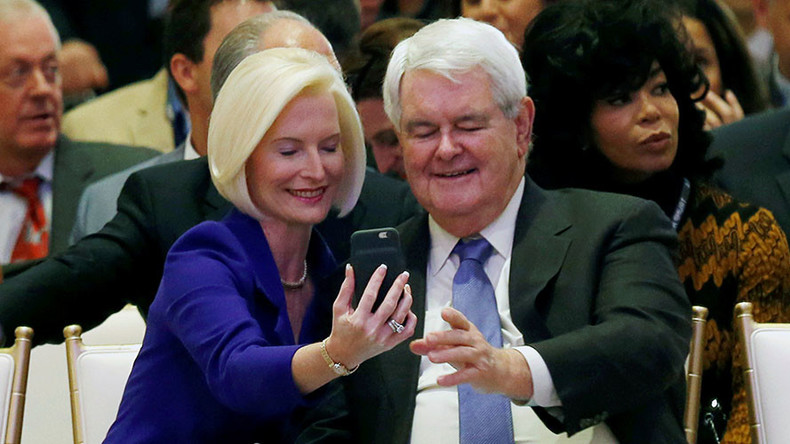 President Donald Trump is reportedly set to nominate Callista Gingrich, the third wife of former GOP House of Representatives speaker Newt Gingrich, as US ambassador to the Vatican.
CNN and the New York Times reported that the Office of Government Ethics had completed its work and cleared her report five weeks ago and was now awaiting the formal nomination from the White House.
"OGE completed its work and cleared her report on April 7," spokesman Vince Salamone told the news outlets.
It's reported that the White House will formally nominate the former Congressional aide and president of Gingrich Productions ahead of Trump's meeting with Pope Francis in Rome on May 24. Callista Gingrich would replace outgoing ambassador Ken Hackett, the former head of charity Catholic Relief Services.
Callista Gingrich, who describes herself as a devout Catholic, had a six-year affair with Newt while he was married to his second wife, Marianne. She was reportedly influential in his conversion to Catholicism.
His former wife told ABC that he and Callista conducted the affair in their marital home.
Callista testified to the lengthy affair during Newt's divorce proceedings in 1999 while he served as the 50th Speaker of the House of Representatives.
The Republican stalwart, who divorced his first wife Jackie during her battle with cancer, was endorsed by extramarital dating website Ashley Madison during his bid to secure the 2012 Republican party nomination.
READ MORE: Newt Gingrich blames Obama for Nice attack, calls for screening of all Muslims (VIDEOS)
Divorce is considered a sin by the Catholic Church with teachings stating that divorced couples cannot receive communion. Pope Francis has softened the stance somewhat on this, endorsing an Argentinian document last September that said sacraments could be offered to some in "irregular family situations."
Callista is currently the president of Gingrich Productions, a company she and Newt founded which produces documentaries that are primarily historical in nature. Among the titles are "Ronald Reagan: Rendezvous with Destiny," "Rediscovering God in America" and "Rediscovering God in America II."
She is also a member of the Choir of the Basilica of the National Shrine of the Immaculate Conception in Washington DC, which performed for Francis's predecessor, Pope Benedict XVI, when he visited the US.
READ MORE: Trump to begin presidency by repealing 70% of Obama's legacy – Newt Gingrich
Newt Gingrich, who was among the names reportedly in the running to be Trump's vice president, took himself out of contention for a cabinet post but remains a strong ally of Trump.
He told CNN in January that his wife was in the running for the Holy See ambassador role.
In an opinion piece for Fox News on Monday, Newt Gingrich wrote that Trump "does not owe anything to the Washington press corps and the left-wing hypocrites who dominate today's news media."