Newt Gingrich blames Obama for Nice attack, calls for screening of all Muslims (VIDEOS)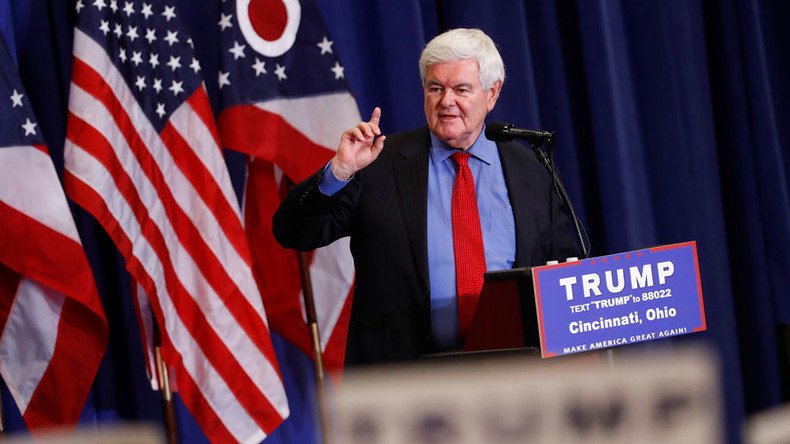 Newt Gingrich has blamed President Barack Obama for the Nice attack, claiming it was the fault of "Western elites who lack the guts to do what's right". The former Speaker of the House made his comments following Thursday's attack which killed 84 people.
"That starts with Barack Obama," Gingrich told Fox News, in a tirade where he criticized the president's administration for what he claimed were inadequate methods of fighting terrorism in the US. He went on to suggest that Obama would give a press conference blaming trucks for the Nice attacks.
"We're like sheep wondering why the wolves keep killing us," Gingrich added, as he called for the screening of "every person here [in the US] who is of a Muslim background."
READ MORE: France vows to retaliate for Nice attack, extends state of emergency
He said the US should have a zero tolerance policy for Sharia Law in the country, saying any individuals who believe in or practice Sharia should be deported: "Modern Muslims who have given up Sharia, glad to have them as citizens. Perfectly happy to have them next door. But we need to be fairly relentless about defining who our enemies are."
During the televised interview he also called for mosques in the US to be monitored, which he described as a "primary source of recruitment". Gingrich preached a two-strike rule, in which any individual found on a website promoting terrorism or saying that they are "delighted at 9/11" would be thrown out of the country after two incidents of such behavior.
Gingrich extended this rule to US-born offenders, justifying the extreme decision by saying "we are at war." He did not detail which country it would be possible to deport a US-born citizen.
.@CallyGingrich & I are deeply saddened by the horrifying events in Nice. Our thoughts & prayers are with the victims & their families.

— Newt Gingrich (@newtgingrich) July 15, 2016
Fox host Sean Hannity told Gingrich that he agreed "wholeheartedly" with his extreme suggestions.
The 73-year-old Republican was a front-runner to be Donald Trump's running mate, a position now looking likely to go to Indiana Governor Mike Pence. When asked about the decision Gingrich told Fox he had not been officially informed.
After Trump said that Muslims should be banned from entering the US after the Paris attacks last year, Gingrich said he went "much too far", claiming the comments were in response to Obama's "weak" stance on the issue.
You can share this story on social media: