High amounts of 'vital nutrients' thrown away in US food waste - study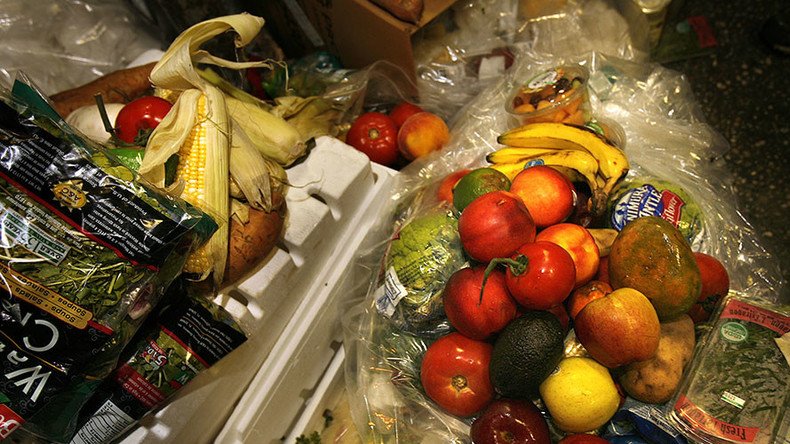 Nutrient-rich foods are disproportionately wasted at high rates, says a new study that researchers believe could breathe new life into solutions addressing the nearly 40 percent of food wasted out of all produced in the US.
Between 30 and 40 percent of food produced in the US is wasted at one point or another in the supply chain. Yet, past studies of American food waste have not included information on the nutritional content of this wasted food.
Researchers at the Johns Hopkins Bloomberg School of Public Health's Center for a Livable Future sought to remedy this, using Loss-Adjusted Food Availability data from the US Department of Agriculture to calculate the nutritional value of food waste for 213 commodities in 2012.
On Monday, researchers revealed their findings in the Journal of the Academy of Nutrition and Dietetics.
Focusing on 27 different nutrients, researchers found that the "lost nutrients" of food wasted in the US in 2012 could have supplied 1,217 calories, 33 grams of protein, 5.9 grams of dietary fiber, 1.7 micrograms of vitamin D, 286 milligrams calcium and 880 milligrams potassium per person, per day.
"Our findings illustrate how food waste exists alongside inadequate intake of many nutrients,"said Marie Spiker, the study's lead author.
For instance, the amount of dietary fiber wasted daily could provide for more than 73 million American women, a group that under-consumed fiber by 8.9 grams per day in 2012.
In addition, "the daily amount of wasted dietary fiber is equivalent to the amount needed to fill this nutritional gap for as many as 206.6 million adult women," the study found.
The authors said that food waste occurs in a variety of ways, and there is currently new and developing awareness of how to curb such waste in the face of so much need. They believe their approach of analyzing the nutrients that are wasted in this process could help reframe food recovery efforts.
"This study offers us new ways of appreciating the value of wasted food. While not all food that is wasted could or should be recovered, it reminds us that we are dumping a great deal of high quality, nutritious food that people could be enjoying," said Roni Neff, director of the Center for a Livable Future's Food System Sustainability & Public Health Program."We should keep in mind that while food recovery efforts are valuable, food recovery doesn't get to the heart of either the food insecurity problem or the waste problem. We need strategies addressing these challenges at multiple levels."

In 2015, the USDA and the US Environmental Protection Agency called for a 50 percent reduction in food waste by 2030.
The United Nations Food and Agriculture Organization (FAO) has said global food production can feed the world's population, yet 780 million people live with chronic hunger.
The UN attributes this food scarcity to "poor harvesting practices, as well as food wastage." Others point out that profit motive and market forces demand food waste, and that no answer to the questions of global hunger and food-resource allocation can come from the current concentrations of power in the food system.
You can share this story on social media: